Dara and Ed's Road to Mandalay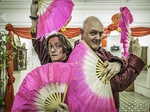 In this brand new three part travelogue, comedians Dara Ó Briain and Ed Byrne take to the road to explore South East Asia, one of the most vibrant places on the planet. Travelling over 3000 miles from Kuala Lumpur in Malaysia, through Thailand and on to Myanmar, they forge their own epic route to the historic city of Mandalay. Each of these countries is facing rapid changes as Malaysia's tiger cub economy continues to develop, Thailand struggles with ever increasing numbers of tourists and Myanmar takes its first steps towards democracy and openness after 50 years of brutal military rule. Along the way Dara and Ed will explore the culture and history of these countries and the ways in which they are responding to the unique challenges of the 21st century.
Episodes
Ep 1 Malaysia
Dara and Ed begin their journey in Malaysia, a vibrant multicultural nation thanks to its history as a staging post on the east-west trading routes. Arriving in downtown Kuala Lumpur, Dara and Ed are keen to see beyond the bright lights and towering skyscrapers of Malaysia's economic boom and find out how Malaysia's diverse communities are holding on to their own traditions and ways of life. They begin by doing what the locals do on a Saturday afternoon and watch a beauty pageant - for chickens - before joining a mass cycle ride through the city. Leaving Kuala Lumpur they head up into the Genting Highlands to stay in the largest hotel in the world and watch the finals of the prestigious World Lion Dance Championships, before travelling onto one of the oldest jungles in the world, Taman Negara. Here they meet the Batek, a Malaysian indigenous tribe that is struggling to find its place in this rapidly modernising nation. Taking the "Jungle Train" north, they visit Malaysia's Islamic State Kota Bharu to try their hand at shadow puppetry and then finish in Georgetown, a UNESCO World Heritage site, where they take part in a spectacular traditional Peranakan feast to celebrate the end of the Malaysian leg of their journey.
Ep 2 Thailand
In Thailand, Dara and Ed fly into Phuket and experience an island that is sinking under the weight of booming tourism. They meet up with a local environmentalist campaigning to protect Phuket's wildlife and help out at a turtle conservation centre, returning two turtles to the sea. Moving on to the mainland, Dara and Ed travel to the capital city of Bangkok, which recently became the most visited city in the world. They are invited to a supper club, where they find out how the locals are reacting to the explosion in foreign visitors. Travelling out of the city on a rice barge, the boys arrive in the ancient Thai capital of Ayutthaya and visit its ruins before Ed takes up Muay Thai boxing for a day. Following the backpackers, the boys then board the night train to Chiang Mai, stop for a Thai massage and see how the city has adapted to life on the tourist trail. As they head towards the north of Thailand, Dara and Ed see some of the positive changes that tourism is bringing. They visit the Hmong hill tribe who have transformed their traditional go karting track into a fee paying attraction for tourists, bringing in some much needed dollars. Finally they end their journey in the Golden Triangle at a sanctuary for elephants that have been rescued from Thailand's logging industry. Here the income generated by a purpose built, eco-friendly tourist resort is funding the welfare and future of the elephants and their handlers.
Ep 3 Myanmar
Dara and Ed arrive in Yangon in Myanmar at a time of great political change. After 50 years of brutal military rule, Myanmar recently held the first open elections heralding a new era of democracy. They visit Aung San Suu Kyi's house and see first-hand how young people are finally able to freely express their support for her with tattoos and before leaving Yangon, take part in the Buddhist Festival of Light at the Shwedagon Pagoda. Catching the train, Dara and Ed travel north into rural areas, first to the village of Pan Pet. This is the home of the Kayan tribe, where they meet the local shaman who reads their fortune from chicken bones. Then on Inle Lake, Dara and Ed try to master the ancient art of "leg rowing", taking part in an epic contest between two fishing villages. Travelling on to meet the Pa Oh tribe, they join a spectacular village festival of homemade rockets. Continuing north, Dara and Ed reach the ruined temples of Bagan, one of the world's most atmospheric and important Buddhist sites. The last leg of their journey takes them up the historic road to Mandalay, not in a fact a road but the Ayarwaddy River. In Mandalay, Dara and Ed visit a comedy troupe called the Moustache Brothers, with whom Ed has a very personal connection. When the Moustache Brothers were imprisoned for criticising the military regime, Ed performed gigs for Amnesty International to help campaign for their release. That they are now performing freely is a fitting symbol of the far reaching changes in Myanmar.