CSI: Miami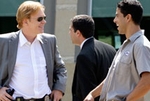 The CSI: Miami team return to RTÉ Two for a new series.

Inspired by the top-rated series "CSI: Crime Scene Investigation," CSI: MIAMI is a drama that follows a South Florida team of forensic investigators who use both cutting-edge scientific methods and old-fashioned police work to solve crimes.
Horatio Caine, a former homicide detective, heads a group of investigators who work crimes amid the steamy tropical surroundings and cultural crossroads of Miami. His team includes Calleigh Duquesne, a bilingual Southern beauty with a specialty in ballistics; Eric Delko, an underwater recovery expert who knows all the twists and turns of the Florida waterways, and Ryan Wolfe, a former patrol officer who specializes in blood and trace evidence. Rounding out the team is Natalia Boa Vista, the enigmatic DNA specialist and newest addition to Horatio's team, Jesse Cardoza, a police officer transferred from the Hollywood, California Division. Helping Horatio with cases is Det. Frank Tripp, a tough yet thorough police officer.
Together, these investigators collect and analyze the evidence to solve the crimes and to avenge those who cannot speak for themselves - the victims.
Season 10
"Countermeasures"
After Horatio heroically saves Natalia, our CSIs must race against time to find wanted fugitives Jack Toller and Randy North. As the team stages an elaborate trap to lure North from hiding, Toller sells his two remaining engraving plates in exchange for some cash and a young woman he plans on making his next victim.
CSIs then capture Randy North and use him to lure out Toller so they can save the girl he plans to kill. But when the set up goes south, and Toller vanishes, the team is forced to reexamine Toller's original case files for any last minute clues to his whereabouts.
Episode 1 "Fallen"
The CSI's must catch a madman causing havoc all over Miami and the team has to mourn one of their own.
Episode 2 "Sudden Death"
Horatio hopes that looking through a list of popular club will help solve a girl's murder.
Episode 3 "See no Evil"
A blind man is the only witnesses to the abduction of a young girl and leads the team to a familiar foe.
Episode 4 "Manhunt"
The team must find out why the person who killed Horatio's wife got out of prison and stop him before someone else becomes the next victim.
RTÉ Two, Wednesday, 10.20pm