CSI: Crime Scene Investigation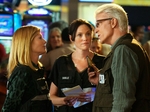 In Las Vegas, a team of forensic investigators are trained to solve crimes by examining the evidence. They are on the case 24/7, scouring the scene, collecting the irrefutable evidence and finding the missing pieces that will solve the mystery.
D.B. Russell, the new CSI Supervisor for the grave shift, comes to the team after heading the Seattle Crime Lab. He's a family man and scientist, but not a nerd. Son of hippie parents, he's a "Left Coast" Sherlock Holmes who devours crime novels and looks at every crime scene as if it were a story waiting to be told.
Other members include new CSI Julie Finlay, a blood pattern expert, who previously worked with Russell in Seattle; Nick Stokes, the conscience of the team, often driven by his emotional connection to the victim to always get the job done; Sara Sidle, aka Mrs. Grissom, the moral compass of the team who is relentless in her pursuit of criminals; Greg Sanders, once an off-beat tech analyst and now an experienced and intuitive crime solver; and Morgan Brody, an exile from the Los Angeles Crime Lab and the daughter of Undersheriff Ecklie. She's a natural born investigator who still has a lot to learn about politics and family.
The CSI team members also work closely with Captain Jim Brass, a seasoned detective and protector of CSI, sometimes to a fault; Dr. Albert Robbins, the ever-professional medical examiner; his wise-cracking assistant, David Phillips; and David Hodges, a tech of many talents who often rubs people the wrong way, but never fails to deliver.

Season 12
Episode 1: "73 Seconds"
A crazy, chaotic shoot-out on a hotel tram leaves two dead, almost no witnesses, and a lot of contradictory evidence; another dead man in Panaca County has a young man's face and an old man's body.
Episode 2: "Tell-Tale Hearts"
The brutal slaying of an entire family has the CSI team stumped, particularly when an unlikely candidate comes forward to take responsibility for the killings.
Episode 3: "Bittersweet"
A sexual sadist walks free after getting a slap on the wrist by the system, and Sara makes it her personal crusade to put the woman back behind bars.
Episode 4: "Maid Man"
The CSI's attend the gala grand opening of a mob museum, only to witness an attempted hit on mob lawyer and former mayor Oscar Goodman.
Episode 5: "CSI Down"
The CSI unit investigates when Frank, an apparent murder victim, sits up and needs help. But in fact, he's not just a victim, he's also a double murderer, and he coolly hijacks the Medevac helicopter taking him to a hospital...
Episode 6: "Freaks & Geeks"
When a Jane Doe is found near the freakish attractions of a 19th - century-inspired traveling sideshow, the team investigates a cast of unusual characters.
Episode 7: "Crime After Crime"
When the CSI team investigates three seemingly unrelated murders, they discover someone is getting revenge for cold case murders that were never solved.
Episode 8: "Brain Doe"
The CSI crew is stumped when they discover a disembodied brain at a crime scene where all the other brains are accounted for.
Episode 9: "Zippered"
The murder of a retired Army Ranger brings the FBI in on the case, to Russell and Catherine's initial chagrin.
Episode 10: "Genetic Disorder"
When a man's dead body turns up naked in the bed of Doc Robbins' wife, the detectives try to "just work the scene" without bringing their pre-judgments to the table, but it sure looks like a case of Death During Adultery.
Episode 11: "Ms. Willows Regrets"
Catherine's friend Laura's mogul husband Mark has a lot to hide behind his successful international corporation, and he's hired a crack team of assassins to carry out the murders of anyone who might be aware of what he's doing, and that includes Laura's lawyer and Laura herself.
Episode 12: "Willows in the Wind"
The CSI team says goodbye to Catherine Willows as she makes a life-changing decision. Meanwhile, in an attempt to catch Laura's husband and his crack team of assassins, D.B. Russell decides to send a message - by faking Catherine's death.
Episode 13: "Tressed to Kill"
The CSI team investigates a series of murders by a serial killer who seems to be recreating a particular woman with the corpses of the women he kills.
Episode 14: "Seeing Red"
Nick helps a car crash victim and amnesiac piece together a brutal crime scene.
Episode 15: "Stealing Home"
When a house is stolen completely off its foundation, The CSIs are on the case in search of answers; new CSI Julie Finlay showcases her skill in blood analysis.
Episode 16: "Unplugged"
The CSI's resort to old school methods to solve a case, when a child is abducted during a blackout that cripples the city.
Episode 17: "Trends with Benefits"
The CSIs are brought in to solve the case of a recently murdered student who's photo ends up trending on the internet.
Episode 18: "Malice in Wonderland"
The CSI team is called in to investigate a robbery-homicide at an "Alice In Wonderland" themed wedding. Hodges' mother Olivia arrives for a visit, and he wants her to believe he and Morgan are a couple.
Episode 19: "Split Decisions"
The CSI's are called in to investigate a murder of a man at a local casino, they close the entire building in order to find the killer.

Episode 20: "Altered Stakes"
When Stokes learns a violent man he helped put in prison is going to have his conviction overturned, the CSI race to find evidence to prove that he's guilty or else he's going to be released.
Episode 21: "Dune and Gloom"
The CSI team is called in to investigate a bomb suddenly going off, killing a racing truck driver while he's in the middle of a race.
Episode 22: "Homecoming"
The CSI team investigates three dead bodies that were found several blocks away from where a campaign dinner is taking place, after concluding who they think the killer is they make a shocking discovery.

RTÉ Two, Wednesday, 9.00pm