CSÍ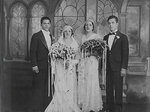 CSÍ (pronounced CSI Fada) - returns with a new series of documentary programmes that features Irish historical crime stories but reveals unexpected twists and turns with elements of a who dunnit, modern forensic analysis and cold case review.
Fileann CSÍ le sraith nua chláracha faisnéise a chíorann scéalta coiriúlachta stairiúla na hÉireann - fiosraítear gach cor agus casadh ar dhul na 'mistéire-who-donnit', fá sholas na hainilíse fóiréinseach is nuaí. Osclófar cásanna a luí marbh le blianta, le torthaí a chuirfidh ionadh agus amhaltas ort.
Episodes
Programme 1: Murder in East 51st Street
This is an extraordinary story of Murder and Suicide set in New York in 1942 but rooted in the heart of Co. Clare. In recent years Eugene McMahon (a retired school teacher) from Connolly, Co. Clare discovered he had a secret Aunt he never knew about - his mother's sister. It was after a family funeral, when a parcel of old photographs, newspaper cuttings and letters from the 1940's surfaced - they revealed a shocking story. This newfound Aunt - Mary Hayes - had emigrated from near Miltown Malbay to New York sometime in the twenties. There she met and, in the face of family disapproval, married an Italian - Frank Traina. They'd 3 children together but the marriage was not to last. By 1942 they had separated. Frank, however, it seems never accepted the separation and, according to newspaper reports, he made arrangements to meet Mary in downtown Manhattan "in a swank apartment building" where he worked as a handyman, with a view to some reconcilliation. Mary travelled to meet him, but it ended in tragedy. He threw Mary off the 6th Floor and jumped to his death. Mary survived several hours, long enough to give an account to the NYPD before succombing to horrific injuries. Their three children Robert( 6) Muriel (4) and John (2) were left orphans. The Murder / Suicide was big news in the New York papers at the time but here in Ireland it was hardly even spoken of. Initially Mary's family were told the couple died in a car accident.
Nearly 70 years later Eugene McMahon wants to find out more about his own family's hidden history and what happened to his three first cousins. Is this a fools errand or can you really find a needle in haystack?
CSÍ follows his search with exciting results and reveals the real story of Murder in East 51st Street.
CSÍ - Dúnmharú ar East 51st Street
Dúnmharú agus Féinmharú, eachtraí uafáis, suite i Nua Eabhrach i 1942 atá préamtha san am sin, agus fós ó shin, i gcoílár Chontae an Chláir.
Ní fada ó shin ó fuair an t-iar-oide scoile Eugene McMahon, ón Fioch Rua, Contae an Chlair amach go raibh Aintin 'taibhsiúil' aige nár luadh riamh - deirféar a mháthair. Tar éis sochraide tháinig beartán sean-ghriangraf, gearrthóga nuachtán agus litreacha ós na dachadaí chun solais a nocht scéal uafáis dó a bhain dá chosa é.
Bhí an bád bán tógtha ag an Aintín 'nua-aimsithe', Mary Hayes, go Nua Eabhrach uair éigin sna fichidí seo caite. Ann a chas an tIodálach, Frank Traina, uirthi. Phósadar, in éadan tola glan na muintire sa bhaile. Bhí triúr pháiste acu, ach ar ábharaí an tsaoil ní raibh rath ar an pósadh. Bhíodar scartha faoi 1942. Ach is cosúil nár ghlac Frank riamh leis an scarúint, mar, de réir na tuairiscí nuachtán, shocraigh sé chun bualadh le Mary 'in a swank apartment building' i lár Manhatten, ina raibh obair pháirtaimsireach aige, chun athmhuintearas éigin a chothú. Bhuail Mary leis, ach b'shin cor tragóideach na cinniúna don mbeirt acu.
Chaith Frank Mary go talamh ón séiú urlár, agus léim sé ina diaidh dá bhás féin. Mhair Mary fada a dóthain chun tuairisc a thabhart don NYPD, sula bhfuair a cuid gortú an ceann is fearr uirthi. Fágadh na paistí, Robert (6), Muriel (4) agus John (2) ina ndílachtaithe.
Bhí an dá bhás i mbéal an phobail i Nua Eabhrach san am, ach is ar éigean a luadh sa bhaile iad. Tugadh le fios ar dtús do mhuintir Mary gur éag an bheirt acu i dtimpiste bhóthair!
Geall le seachtó bliain ar aghaidh tá fúdar ar Eugene McMahon chun stair rúnda na clainne a aimsiú, agus conas mar a d'éirigh lena cholcheathracha beaga. An tóiríocht na snáithide móire san fhásach dó an méid sin, nó a mhalairt?
Leanann CSÍ an cuardach lena chois, cuardach ná beidh gan toradh, agus nochtfar fíor scéal na tragóide faoin 'Dúnmharú ar East 51st Street'.
Programme 2: Murder in Little Jerusalem

Even though the Dublin of 1923 was a troubled place, recovering from the war of independence and the very recent civil war, the city was shocked by a spate of murderous attacks on Jewish men walking home to the area off the South Circular Road, known then, as "Little Jerusalem". Bernard Goldberg, a 42 year old jeweller from Manchester and Ernest Kahan, a 24 year old civil servant in the Dept of Agriculture, were attacked and shot dead. Within the space of two weeks, two Jewish men had been shot dead and two more had been badly injured - the tightly knit jewish community in Dublin now feared the worst - that this was the beginning of a cold blooded anti-semitic campaign.
Despite extensive Police investigations - the killers were never found.
This is a story of intrigue, mystery, scandal, divided loyalties and cover up. For over 80 years the details of the story have remained shrouded in secrecy. For the first time on television CSÍ will piece together what really happened. Who the chief suspects were and what happened to them. And we uncover the trauma that the murders inflicted on the families of those left behind, trauma that ripples on to this day.
CSÍ - Dúnmharú i Little Jerusalem
I 1923, ar shála Chogadh na Saoirse agus i marbhshruth Chogadh na gCarad, baineadh siar dian as pobal Bhaile Átha Cliath nuair a fearadh sraith d'ionsaithe marfacha ar Ghiúdaigh agus iad ag siúl abhaile don gcomharsannacht sin ar an gCuarbhóthar Theas ar a dtugtaí 'Little Jerusalem' an tráth sin uirthi.
Seodóir 43 bliain d'aois as Manchuin Shasana ab ea Bernard Goldberg. Stát Seirbhíseach i Roinn an Talmhaíochta ab ea Ernest Kahan (24). Thiteadar beirt le piléar seicteach. Agus níor sin an t-aon ionsaí amháin ach oiread. In achar coichíse, dúnmharaíodh an bheirt thuasluaite agus fágadh beirt ógfhear eile tromghonta. Ní nach ionadh má bhraith pobal dlúth Ghiúdach Átha Cliath go rabhadar faoi léigir frith-Sheimíteach. Chroch scáil agus sceon an tseicteachais ós a gcionn i Iarúsailéim Beag an Chuarbhóthar Theas.
In ainneoin fiosraithe forleathana na nGardaí, thug na dúnmharaithe na cosa leo slán.
Tá idir chaimiléireacht, mistéir, scannal, dílseachtaí faoi amhras agus forcheilt sa scéal seo. Fágadh mionsonraí an uafáis faoi bhrat na rúndachta le breis agus ceithre scór bliain. Don chéad uair ar theilifís, nochtann CSÍ díreach cad a thárla. Foillseofar ainmneacha na príomh-amhrastach, agus cad a bhain dóibh ina dhiaidh sin. Nochtfar freisin an tráma a d'imir na dúnmharaithe ar mhuintir na n-íobartach, tráma atá ina chréacht dhorcha fós ar a scéal is a síce.

Programme 3: The Banner Bomb
The year was 1929, two detectives and a Garda stared at the black box which lay on the ground. They tried to open it but failed. Eventually, one of the detectives kneeled down beside the box and placed his hands on the lid.
These were the last moments in the life of Detective Garda Tadhg O'Sullivan. As he prised open the box, he was blown to pieces. Tadhg O'Sullivan died almost instantly. His two colleagues suffered horrific injuries, but survived.
81 years later, a retired New York police officer James Sullivan visits the crimescene in Tullycrine, Co. Clare. The dead man was his uncle. James wants to find out what happened that day in County Clare as he tries to reconcile the pathos of his family tragedy with the cruelties of Irish history.

The Tulycrine atrocity happened six years after the end of the Civil War. In West Clare, however, the Anti-Treaty IRA didn't accept the authority of the Free State or the Garda Síochána. As the conflict between the Gardaí and the IRA grew in intensity, it became clear that blood would continue to be spilt.
It was this maelstrom of civil war political tensions that gave rise to murderous plots and conspiracies. No one has ever been convicted of the brutal killing and for decades it has not been spoken about, in the locality, leaving so many questions unanswered. Why was Detective O'Sullivan killed in such a brutal fashion by the IRA? Was he really the intended target of the bomb?
CSÍ:The Banner Bomb explores the background to this unsolved crime and reveals what really happened.
Programme 4: Chrysanthemum Killer
The summer 1946 in Athboy, Co. Meath, a young man is pronounced dead after what seems like a street fight . But the death of Larry Higgins, was it accidental? Malicious? or something stranger than fiction? CSÍ - this week investigates the strange case of a murder that never was.
This year is the 75th anniversary of the first settlement of Gaeltacht families in Co. Meath - which founded today's tightly knit community of Gaeltacht na Mí. Like many small communities Rath Cairn has its darker secrets and one episode in its history that has always intrigued and fascinated Bláthnaid Ní Chofaigh, is the story of Dan Tom Taimín Mac Donncha who was accused of murder.
Bláthnaid Ní Chofaigh remembers as a child the stories about the case but where the truth began and the fiction ended she never was sure. Turning to the official records in the archives and going back to her home place, the scene of the crime, Bláthnaid reveals what really happened to Larry Higgins. She talks to the family of Dan Tom Taimín, who was sent to prison for a crime that he claimed he never committed. Where does the truth lie? This historical crime story is stranger than fiction. This the strange case of the Chrysanthemum Killer!
RTÉ One, Monday 9 January 2012, 7.30pm