Creedon's Weather: Four Seasons In One Day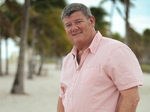 RTÉ's John Creedon is on a journey to find out everything he can about the Irish weather in a new three part TV series for RTÉ One. The Irish love to talk about the weather and after the past few winters, there is plenty to talk about. From the winter storms that lashed the country, to flooding, to coastal erosion; this series will ask all the obvious questions and try an answer them in a straight forward and entertaining manner. John's journey will find him investigating stories from history, science, folklore, archaeology and modern life on how the weather has shaped our landscape and our nation. Every day our lives are affected by the weather and yet we seem surprised so often that it rains and get caught without an umbrella or a rain jacket. What causes our weather to be the way it is? How has it shaped us? How do we deal with it in our daily lives?
Episodes
Episode One
John travels to Florida to learn about the 'engine room' of Irish Weather. the Gulf Stream and, following the recent arrival of a Giant Loggerhead turtle in Irish waters, he witnesses these prehistoric creatures laying their eggs on a Florida Beach.
Episode Two
This week John looks at how cope with the weather. He travels to Rossbeigh in County Kerry to see the results of this winter's storms on the coastline.
John then travels Rome to the European Space Agency to look at how they are developing systems to deal with extreme weather events in the future
And John finds out how Ireland played its part in D-Day when he travels to Black Sod Lighthouse where news of an approaching storm was responsible for the postponement of the invasion for 24 hours.
Episode Three
John goes behind the scenes at Met Eireann and accepts a challenge to present the weather forecast LIVE