Creedon's Retro Roadtrip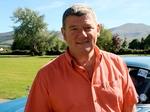 In his new series Creedon's Retro Roadtrip, John Creedon retraces the route of the only holiday his entire family ever took. Back in 1969 John and his eleven brothers and sisters were loaded into his father's enormous Mercedes, those that wouldn't fit were piled into a borrowed caravan and the entire family took off on a two week road trip around the country. On the way around the country they visited Butlins, missed Lough Neagh and got caught in an Orange parade.
Over forty years on John Creedon takes off on his own journey to see how the people and the country has changed and to visit those places his parents captured forever on grainy home cine and in black and white photos.
Episodes
Episode One:
With the keys for his Merc and his caravan in tow Creedon's epic journey begins where it ends, in the Rebel city of Cork!
First stop on his roadtrip are the crossroads in Mallow, for a spot of Irish dancing. Then it's on to Cashel where John and local pharmacist Sean Ó Duibhir recall the infamous Fleadh Cheoil of 1969.
Next stop is Carlow to meet the proud owners of an original barrel top wagon. John and his caravan travel to the heart of Dublin city where Nelson's Pillar is revived - in memory only -and the brutalist architecture of Ballymun is bemoaned. Last stop is the Royal Meath Show, the best spot to bag yourself a premier Irish Hererford heifer.
Episode Two:
In tonight's episode John Creedon hitches up his caravan at his old holiday spot in Drogheda to discover the Mosney of his memories has changed beyond belief. He consoles himself with a lesson in yodelling from The Millionaires showband before travelling across the once unapproved road across the border to Belfast for the 12th of July.
Episode Three:
In tonight's episode John makes a pilgrimage to Lough Derg . He meets one of the last people to make handmade báinín jumpers. He goes busking in Galway and meets Willie Daly in Lisdoonvarna for the serious business of matchmaking .
Episode Four:
In tonight's episode John's roadtrip comes full circle. He meets seanchaí Eddie Lenihan in Crusheen, Co Clare and travels the hidden way of the fairies.
John visits the house in Castlegregory that his parents fell in love with and that became a temporary home to some of the stars of the movie Ryans Daughter.
He travels back in time to the corridors of his old boarding school in Killarney and then home to his motherland Inchigeelagh in West Cork.