Crash and Burn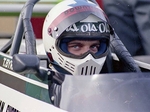 Crash and Burn, a feature length documentary, funded by the IFB, RTE and BBC NI tells the story of Tommy Byrne who for a fleeting moment in the early 80s was the world's greatest driver, the motor racing equivalent of George Best and Muhammad Ali all rolled into one.
Peter Bradshaw, The Guardian **** - "There's a fascination and poignancy to this gripping sports documentary, about someone who deserves a kind of legendary status for the way he didn't become a legend."
Donald Clarke, The Irish Times **** - "Ó Cualáin tells his story with great economy."
Allan Hunter, Daily Express **** - "A compelling documentary about a man who seems to have come to terms with his past and the way his life might have turned out."
In a little over four years Byrne went from driving a Mini Cooper in stockcar racing to the big-time in Formula One. Eddie Jordan the former team-owner, who worked with both Ayrton Senna and Michael Schumacher, will tell you: 'Forget Schuey and Senna. Tommy Byrne was the best of them all.'
His rise was meteoric and his fall spectacular.
Tommy Byrne was a cocky, aggressive driver from humble roots and the Formula One glitterati simply didn't like the mix. Driving was a route out from a future of toil and drudgery he saw stretching out before him. Upon his arrival in Britain his talent was obvious and its impact immediate as he secured six championships in four years. During this period he caught Ayrton Senna's attention as a serious rival.
That two incredible talents would arrive on the scene at virtually the same time was a freakish occurrence. While they both drove for the Van Diemen team, Byrne knew it was a source of resentment for Senna that he was being paid to race while the Brazilian had to pay his own way. For Byrne, ultimately, it would prove a disaster.
In the early 1980s it was quick Brazilians with deep pockets rather than penniless tearaways who were all the rage among motor racing's top brass. Byrne's own Formula One career was limited to a handful of races for the under-funded Theodore team and a test outing for McLaren that has become the stuff of legend. Byrne's time wasn't just good, it was unbelievably good. It was the fastest time any McLaren had ever recorded at Silverstone, including the qualifying times set by former World Champion Niki Lauda and John Watson in the same car at that year's British Grand Prix. Why McLaren didn't offer him a drive is still a matter of debate to this day.
While Ayrton Senna was winning his first Formula One race, Byrne's career was already on a downward slope. A procession of clowns, lunatics and gangsters flitted in and out of his life before he finally followed his dream to settle in America after a turbulent stint on the Mexican F3 circuit.
Thirteen years into their respective careers as the two brightest future stars of Formula One - Aryton Senna was in his grave, deified like no other driver. Byrne was a depressed, drunk, labourer. Now, more than ever, the story needed to be told.
Crash and Burn shines a light on one of professional racing's most dashing and charismatic talents and a glittering career that was doomed before it ever began. The story of the greatest F1 driver never to emerge.
FILMMAKERS BIOS
Seán Ó Cualáin (director) is a multi-award winning Irish director. His first theatrical release was the 2012 film Men at Lunch which was on the official selection at TIFF and was released across the USA, Canada and Ireland and has had TV sales in over 30 countries. To date, Seán has won three ITFA awards in Ireland and four Celtic Media awards in a diverse range of topics ranging from sporting icons to the delicate tale of a bishop's secret lovechild.
David Burke (producer) produced the 2012 documentary Men of the Rás, telling the surreal story of an Irish republican's attempt to start his own version of the Tour de France in Ireland during the 50s. It was the Critics Choice in The Irish Times where it was described as a "gem" and as "compulsive viewing" in The Irish Independent. It won both the best sport and overall category at the 2013 Celtic Media Festival. Crash and Burn is his first feature length documentary.