Craig Doyle Show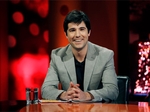 Craig is joined by guests Jean-Christophe Novelli and Dom Joly; Paddy McKenna and Clodagh McKenna will join Craig for a bit of banter, plus we'll have some contestants from the new series of Masterchef Ireland.
Craig is back! Join him every Thursday night on RTÉ Two for his irreverent take on the stories that are making the headlines. We'll bring you the best in chat and comedy, with some well-known faces from home and abroad and we will find out what makes our nation tick.
Craig said: 'This autumn, we're going to be airing on Thursday nights, with a longer show, which we're delighted about as gives us more time and more scope to really get stuck in. We have a great team of people working on the show and are really excited about the coming season. Our show is all about fun and we hope our viewers enjoy it as much as we do.
RTÉ Two, Thursday, 10.35pm