Cougar Town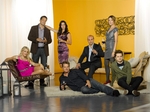 Courteney Cox stars as Jules, a recently divorced single mother exploring the honest truths about dating and aging in our beauty and youth obsessed culture.
While most women in their twenties go through life experiencing the challenges and often humorous pitfalls of meeting men, Jules took on the responsibilities of marriage and raising a son. Now in her forties, she embarks on a journey to self-discovery whilst surrounded by fellow divorcees and singletons eager to live or re-live a time gone by.
Along for the journey are her friends and family: Laurie (Busy Philipps), the younger, feisty co-worker who encourages her to get out there and have some fun; Ellie (Christa Miller), the sarcastic, unapologetic confidante content with her life and marriage to her average, but loveable husband, Andy (Ian Gomez); ex-husband Bobby (Brian Van Holt), a classic under-achiever who'll test her patience as they attempt to raise their teenage son, Travis (Dan Byrd); and newly divorced neighbor Grayson (Josh Hopkins), who proves to be a catalyst of sorts for Jules.
Programmes: Season 3
Episode 1- "Ain't Love Strange"
Jules is miffed when Grayson (who has an ulterior motive) calls her "predictable"; Ellie frets that little Stan is turning into a "devil child," or even worse, could grow up to be like Laurie; and Travis likes his new off campus housing, until Bobby tries to convince him to take dog Travis in.
Episode 2 - "A Mind with a Heart of its Own"
Jules ends up asking both Ellie and Laurie to be her "co-maids" of honor because she can't stand to hurt anyone's feelings; and Grayson tries to ask Chick (guest star Ken Jenkins, "Scubs") for Jules' hand in marriage formally, but Chick decides to have a little fun in the process.
Episode 3 - "Lover's Touch"
There is no time for romance when you're planning a wedding, and Jules is in full "AWATT" mode (All Wedding All the Time), until Travis is in an accident and rushed to the hospital. Meanwhile Grayson is feeling neglected by Jules, so the guys try to cheer him up by inventing a new game called "D-Ball," and things get dangerous when Laurie and Ellie want to play.
Episode 4 - "Full Moon Fever"
Bobby falls for Travis photography proffesor Angie, but Travis does not want to introduce them. Laurie falls for a guy via twitter, a soldier from Iraq. Meanwhile, Jules and Andy prepare for war against an unruly gang of kids on bikes who are terrorizing them.
Jules and the gang decide Bobby needs help with Angie so they start "operation kiss-the-girl". Meanwhile, Ted and the Peons pass through on their way to Disney World.
Episode 5 - "A One Story Town"
Jules and the gang decide Bobby nneds help with Angie so they start "operation kiss-the-girl". Meanwhile, Ted and the Peons pass through on their way to Disney World.
Episode 6 - "Something Big"
Jules tries to get over Grayson's issues from his past. Unfortunately, he encounters a former fling, Holly, and it turns out that he is the father of a baby girl.
Episode 7 - "You Can Still Change Your Mind"
Travis wants to be given the opportunity to take his mom and Grayson's wedding pictures, but Jules isn't sure it's a good idea. Bobby is getting serious about Angie, but she may not feel the same way.
Episode 8 - "You Can Still Change Your Mind"
Everyone doubts Ellie when she tells them that her seemingly lovely mom is a sociopath. Grayson helps Laurie with her dream of opening a cake business, but her reaction comes at a surprise. Bobby and Chick help Travis steal the campus cougar statue.
Episode 9 - "Money Becomes King"
Jules and Grayson are having trouble agreeing about their finances. Laurie needs to decide if she wants to keep working for Jules now that her cake business is active. Andy pulls a prank on Bobby in an effort to broaden their friendship.
Episode 10 - "Southern Accents"
Jules is already having a difficult time accepting Holly when she finds out she and Travis made out. Andy wants to run for may, but Ellie won't allow him. Laurie tries to get Bobby to believe he's socially inept after an incident.
Episode 11 - "Down South"
A hurricane blows into town, so that means it's time for a hurricane party at Jules' house. But there's more than one storm brewing, as Travis wants to make a play for Laurie, now that she's broken up her Skype romance with soldier Wade (guest star Edwin Hodge), and Jules is determined to keep them apart.
Episode 12 - "Square One"
Grayson moves in with Jules after the hurricane damages his house, but the sudden togetherness makes them wonder if they're going to make the same mistakes in their upcoming marriage that they made in their past relationships. Meanwhile, Ellie and Laurie bicker about which of them is the sexiest, dragging Travis into the argument, and Jules and Bobby dare each other to a "white shirt challenge" - to see who can wear the same while shirt longer without spilling something on it.

Season 2
Episode 1: "All Mixed Up"
Bobby struggles with the reality of Jules being in a relationship with Grayson. Jules has issues with her new psychiatrist when she discovers the truth behind her methods.
Episode 2: "Let Yourself Go"
Jules has trouble coping when Travis gets set to leave for college, Laurie teaches Bobby how to use the internet on his "new" laptop, and Andy hatches an elaborate plan to deceive Ellie with the help of Grayson.
Episode 3: "Makin' Some Noise"
As Jules adjusts to living on her own, Grayson unwillingly becomes the new object of her constant attention; Travis turns to Bobby for advice on how to redefine himself at college; and Ellie is determined not to be friends with her new nanny.
Episode 4: "The Damage You've Done"
Grayson decides it's time to tell Jules the truth about Laurie and himself. Jules is determined to project her anger toward someone, but has trouble choosing whom. Meanwhile Laurie professes her love for Smith, Bobby is obsessed with seeing a street performer swallow a sword, and Andy gets Travis to doubt Kylie's devotion.
Episode 5: "Keeping Me Alive"
Bobby decides it's time for him to stop relying on Jules' financial help, but when she discovers what he's given up, she comes up with a plan to continue supporting him; Ellie thinks she's the smartest member of the cul-de-sac crew, but the gang is determined to prove her wrong; and Laurie and Smith break up.
Episode 6: "You Don't Know How It Feels"
Jules' dad (Ken Jenkins) comes to visit on a special Halloween. Jules is determined to connect with her dad -- so much so that she gives in to dressing up for Halloween, his favorite holiday. Meanwhile, Grayson hits it off with Jules' dad, Bobby wants back in as baby Stan's guardian, should anything happen to Ellie and Andy, and Laurie reminds Travis how much fun Halloween is.
Episode 7: "Fooled Again (I Don't Like It)"
It's Jules 42nd birthday, and that can only mean one thing -- gift contest! Every year, Jules holds a contest to determine who gives her the best gifts, which Ellie always wins. This year Laurie teams up with Grayson in an attempt to overthrow Ellie. As Jules contemplates what to do for her birthday, Andy suggests a night of dancing. Meanwhile, Travis introduces Bobby to a Netti Pot, but not without consequences.
Episode 8: "Little Girl Blues"
Travis brings home his new girlfriend, Kirsten (Collette Wolfe), a grad-student, to meet Jules. Jules feels instantly threatened when Ellie points out that, moving forward, any girl Travis brings home could be her future daughter-in-law. Meanwhile, Grayson's house has become the new place for the gang to hang out, which he hates, and Travis turns to Bobby for advice.
Episode 9: "When The Time Comes"
Jules says "I love you" to Grayson for the first time. But when Grayson doesn't reciprocate with the words she wants to hear, she's determined to host a "romantic" Thanksgiving in order force the moment on of him. Meanwhile, Ellie and Laurie team up to knock the optimism out of Andy, and Bobby is upset when the gang confesses that sometimes they can't understand what he's saying.
Episode 10: "The Same Old You"
Jules wants to help Bobby gain his confidence back and thinks fixing up his boat and getting it back in the water will do the trick. Meanwhile, Ellie looks to dig up some dirt on Grayson and discovers a hilarious fact about his past, Kirsten grows jealous of the obvious connection between Travis and Laurie, and Bobby tries to qualify for a golf tournament with Andy as his caddie.
Episode 11: "No Reason to Cry"
When Grayson doesn't share Jules' sadness on a series of unfortunate but accidental events, she questions whether they're meant to be together. Meanwhile, Travis' new girlfriend throws Bobby off his golf game, and Ellie gets upset with Andy when he uses their joke on Laurie.
Episode 12: "A Thing About You"
While the guys argue that men are loyal friends and women will abandon their pals at the drop of a hat, one thing is certain -- everyone has each other's backs in the cul-de-sac crew. Although Laurie may be the worst houseguest ever, Jules is there for her when she needs a place to stay; Laurie helps Jules to realize she doesn't need to change for others; and when Bobby is jealous that Travis has gone to Grayson for advice, Grayson comes through for his buddy.
Episode 13: "Baby's a Rock 'N' Roller"
Jules and Ellie differ on whether it's more difficult to raise a baby in your 40s than in your 20s. Ellie tricks Jules into watching Baby Stan on her own for a day, but Jules is determined to prove how easy it s. especially when she's roped in Grayson to help. Meanwhile, Bobby's given the chance to play golf for free in order to train for his upcoming tournament, as long as he tees off before 6:00 a.m., and Andy volunteers to be Laurie's wingman as she puts herself back out there after her split with Smith.
Episode 14: "Cry to Me"
It's Valentine's Day and Jules wants nothing more than for Grayson to open up to her about his feelings. Meanwhile, when Ellie is adamant about not wanting to do anything for Valentine's Day, Andy makes a date with Bobby, and Travis looks to Laurie for help in creating his "sexy" gift for Kirsten.
Episode 15: "Lost Children"
When Travis can't fix the TV in time for movie night, Jules invents a new hide and seek type of game for the cul-de-sac crew. Meanwhile, Ellie complains that they always have to do what Jules wants to do, Andy is angry at Grayson for talking smack, and the gang meets Bobby's new friend.
Episode 16: "Walls"
Once again Jules chooses to get too involved in Travis' life. Ellie decides to step in and tell Jules it's time to stop being so clingy. Meanwhile, Bobby and Laurie partner up to bring Penny Can to the masses and Andy teaches Grayson a lesson in friendship.
Episode 17: "You're Gonna Get It"
When Bobby leaves his lucky golf visor behind on the eve of his big professional golf tournament, Jules sends Travis along with the cap to look after his dad and Andy. Meanwhile, Jules tries to overcome her biggest fear - public humiliation - and Ellie and Grayson are astounded at how good Laurie is at a game of trivia.
Episode 18: "Lonesome Sundown"
Lou Diamond Phillips Guest Stars as Himself.
Although she realizes Travis could be making one of the biggest decisions in his life, Jules takes a step back. Meanwhile, Grayson tries to take an interest in Travis, and the gang establish a "council" to determine each other's punishment in an attempt to stop taking each other for granted.
Episode 19: "Damaged By Love"
Nia Vardalos ("My Big Fat Greek Wedding") Guest Stars
When Travis suffers his first truly broken heart, Jules and Bobby are at a loss as to how to help him. Meanwhile, Grayson stands up to Jules when she tries to tell him what to do, and Ellie turns to Laurie for support when Andy's overly flirty sister-in-law, played by Nia Vardalos, comes to visit.
Episode 20: "Free Fallin"
Lou Diamond Phillips Guest Stars as Himself
As Travis continues on a downward spiral from his breakup with Kirsten, Jules decides it's time to give him some tough love. Meanwhile, Andy advises Bobby and Laurie on their new business with the help of Lou Diamond Phillips, and Ellie and Grayson are threatened by three occult kids.
Episode 21: "Something Good Coming" Part 1 & 2
Sam Lloyd ("Scrubs") Guest Stars as Ted Buckland
Jules and crew make plans for a group vacation. When Travis abruptly moves to Hawaii, the gang go after him and decide to spend their vacation there too. As Jules struggles with Travis' choice, Grayson tells her he's keen on having kids. Meanwhile, Bobby acts as Ellie and Andy's vacation surrogate, and Laurie hatches a plan to lure Travis back home.