Corrigan's City Farm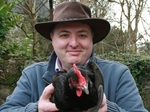 Richard Corrigan is a man on a mission - he is determined that everybody should have a slice of the good life. Richard has set himself an enormous challenge. He wants to prove that it's possible to set up a farm on waste land in a city location and train an army of volunteers to run it.
Richard has found 24 willing volunteers and given them a plot of land in the heart of the city. The novice gardeners will be getting back to basics, growing fresh, seasonal food while fighting everything from drought to greenflies.
Can our inner city volunteers rise to the challenge and transform a plot of derelict wasteland into a lush and fertile smallholding? Can Richard start a national allotment revolution?
Other Richard Corrigan Programmes