Corrigan Cooks Naturally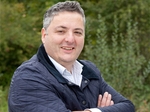 Top chef Richard Corrigan is back with a brand new series celebrating what's local, what's good and ultimately what's natural.
Richard Corrigan is on a mission. Last year he brought his city farm to Cork and encouraged everyone to eat well and grow their own food. Now he's determined to spread the good word around the rest of Ireland and so he's launching his new campaign to encourage everyone to Taste Local.
He's set up his own Corrigan Cooks Naturally Roadshow and he's bringing it all around the country. But this time, he's recruited a few expert friends to give him a hand. On the campaign tour with him is medical herbalist Vivienne Campbell who can show you how plants and flowers can make remedies and even natural beauty products. Also joining Richard is horticulturalist Kitty Scully who wants us all to reconnect with our food heritage and celebrate the community gardens that are popping up all over the country.
Their motto is Taste Local and they're celebrating what's local, what's good and ultimately what's natural.
Episodes
Programme One: Kerry Show
Richard kicks off his Taste Local campaign at Puck Fair in Killorglin in County Kerry. He gets a taste of the madness that is Puck Fair and manages to do some fishing off the Dingle peninsula.
His two new recruits are also busy. Medical herbalist Vivienne is on the search for some meadowsweet which actually contains aspirin and she shows you how to make a refreshing cordial. Horticulturalist Kitty discovers how the kids of a Tralee housing estate are growing their own food.
Finally, Richard cooks up the best of Kerry ingredients to make Fresh Pollack with a Heritage Tomato Salad and Tea Smoked Mackerel.
Programme Two: Tipperary Show
Tonight on Corrigan Cooks Naturally, Richard's Taste Local campaign continues when his road show rolls into Cloughjordan in County Tipperary. This is the site of Ireland's largest community farm. Over fifty families have come together to set up their own farm and Richard is keen to see it in action.
His two new recruits on the campaign tour - medical herbalist Vivienne Campbell and horticulturalist Kitty Scully - are also kept busy. Vivienne finds some wild strawberries for a natural face mask as well as a common wild herb known as self heal. And Kitty discovers the amazing legacy of Cloughjordan House which ran a famous vegetable nursery in the 1800s, where they managed to grow exotic fruit.
It all culminates in a big barbecue at Cloughjordan Community Farm where Richard and his team ensure everyone Tastes Local.
Programme Three: Dublin Show
Richard's Taste Local campaign goes urban when it arrives in Dublin to showcase the best food and herbs the capital can offer.
Richard, Vivienne and Kitty discover a jewel of a city garden - De Courcey Square in Glasnevin in Dublin. But Richard also discovers a milestone in artisan produce when he finds some rare cured ham at the Stone Age Farm in Wicklow.
Medical herbalist Vivienne finds a very different use for culinary herbs and rustles up a thyme and honey cough syrup. And horticulturalist Kitty celebrates gorgeous summer fruit and makes an unusual rhubarb aperitif.
Finally Richard takes over De Courcey Square when he cooks up Pork Schnitzel and Poached Pears in Cider.
Programme Four: Sligo Show
Richard's Taste Local campaign heads west to sun baked Sligo to celebrate everything the coast has to offer. Richard enjoys some oysters and a glass of white wine on the shores of Lissadell House while Kitty discovers the House's walled garden has over 180 potato varieties.
Vivienne meets up with seaweed expert Dr. Prannie Rhatigan and makes her own seaweed moisturiser.
It all culminates with Richard's campaign cookery demos in Sligo town where he makes the most of Sligo's clams and wild mussels.
Programme Five: Laois Show - Electric Picnic
Tonight Richard brings his Corrigan Cooks Naturally campaign to the Electric Picnic Music Festival. After a music filled first night and a quick chat with Roxy Music saxophonist Andy Mckay, Richard, Vivienne and Kitty have one day to spread their Taste Local message.
Richard meets up with wild mushroom expert Bill O'Dea while Vivienne gathers some blackberries for a soothing oxymel which might help the revellers' sore throats.
Kitty discovers a sprout super food that can be grown in your kitchen, all before Richard cooks up the best the Electric Picnic has to offer.
Programme Six: Clare Show
It is the final destination for Richard's Taste Local Campaign and where better than the site of Ireland's Seed Bank - Seed Savers in Clare.
Richard, Kitty and Vivienne are delighted to join in with their Apple Festival and celebrate growing and eating locally.
Richard meets up with Jim Cronin, an organic farmer who ploughs with horses. Vivienne discovers the folklore and health properties of elderberries while Kitty explores exactly how Seed Savers are preserving Ireland's horticultural heritage. It all leads up to Richard's final campaign cookery demo where you can be guaranteed he will be serving up some of those delicious apples.

RTÉ One, Wednesday, 8.30pm
Other Richard Corrigan Programmes:
Vivienne and Kitty's Recipes & Top Tips: