Connected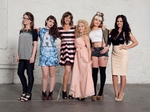 Re-Connected: Reality Bites

Series 7: Episode 14
One year on, we reconnect with the six women who filmed every aspect of their own lives for nine months on the much discussed RTÉ2 series Connected.
One year on, we reconnect with the six women who filmed every aspect of their own lives for nine months on the much discussed RTÉ2 series Connected. In this special episode we catch up with the women as they reflect on the series, how it changed them, how it impacted on their lives and how they've moved on since that remarkable series.
Six women, six cameras.

Connected is a brand new RTÉ 2 series that breaks many of the conventions of TV story telling: a self shot, observational documentary series that feels almost soap-like, Connected sees traditional TV catch up with the ways of the web.


Cast with six women, each of whom has being self shooting their world for the last ten month and capturing their most intimate moments, this series is setting out to time-capsule what life is like for women in Ireland 2014.

Each woman is their own director; they decide what and where to shoot. By empowering our cast in this way we get a whole lot more than just a glimpse inside six very different worlds, we get real honesty.
Based on thousands of hours of footage filmed over 10 months Connected starts on RTÉ 2 on 22 Sep.

Click here to watch EXCLUSIVE WEBISODES for Connected on the RTÉ Player......
Episodes
Episode 1 - Searching For Security - Monday 22 Sept 10.30pm
Elayne finally has a place of her own, Nicole doesn't like being dependent on boyfriend Noel and Venetia feels for husband Martin who is dealing with unemployment.
We meet Nicole (20) living in West Dublin with boyfriend Noel as she rushes to her exams in law. Meanwhile busy mother of three Venetia (40) juggles domestic duties with work, her usual optimism takes a wallop when husband Martin has to apply for social welfare. Meanwhile Elayne (26) is busy moving into her new home, will this allow her let her defences down a little?
Episode 2 - Moving On - Tuesday 23 Sept 10.30pm
Nicole and boyfriend Noel have a fight. Newcomer Kate gets to work as a poll dancer. And Alanna is looking for somewhere to call home.
We meet Kate (35) who lives in Cork and is worried about how to tell her mother that she is a stripper. And newcomer Alanna (20) from small town Ireland who is looking for a new home. Meanwhile Nicole wonders if she and boyfriend Noel will ever appreciate the same things?
Episode 3 - Home - Wednesday 24 Sept 10.30pm
Christmas brings memories of people passed, renewal for the future and fear of upsetting those you love.
Its Christmas, Venetia enjoys the holiday with the children and plans to start the new year on a good footing. Despite the warm celebrations in her aunt and uncle's Alanna misses her father and Christmases past. Kate goes home to the USA and has a traditional celebration with her family, can her professor Mother understand her choice to work in the sex industry?
Episode 4- "The Shit That Pays" - Thursday 25 Sept 10.30pm
Elayne worries about money, Kate worries about perception and newcomer Anna worries about where she invests her energies.
We meet Anna (32) from Dublin who is questioning the amount of time and commitment she gives to her job in advertising - is this really where she wants to continue placing her energy? Meanwhile Elayne struggles to make money from her music. And after an interview on local radio in Cork Kate is worried about how she will be perceived, can she separate her "day job" from who she is?
Episode 7 - Mirror, Mirror (Tues 7 Oct)
Alanna wonders why growing up is so hard. Anna questions her priorities and Kate sees herself through another's lens. Anna is having trouble making decisions even deciding what to buy for dinner is an issue. Kate is feeling vulnerable as her sex work starts to intrude on her other personas. And Alanna wants to live life a bit more but can't fully open up even to boyfriend Hutchy.
Episode 8 - Boys will be boys (Thurs 9 Oct)
Elayne rails against unwanted attention. Alanna would like Hutchy to make more plans for the time they spend together. And Nicole is exasperated trying to get through to men.
Episode 9 - Be True to Yourself (Thursday 16 Oct)
Billing: Elayne goes to the mecca of Hip Hop, New York for the first time. Venetia goes on a rare night out with the girls. And Kate is preparing to go to Australia.
Synopsis: Kate agonises over writing her mother that she is an escort, will she understand? Venetia feels she is tolerant of Martin as they disagree on what to charge for a lunch and she does all the house work. Elayne loves New York, hanging out with her rap mentor, but will she give him the answers he's looking for?
Episode 10 - My Dream Job - Tuesday 21 October 10.30pm
Billing: Anna has a major decision to make about the year ahead. Elayne is launching her new album. Venetia and Martin look for a venue for their new deli.
Synopsis: Elayne has a lot to do for the launch of her new album, will all the hard-work pay-off? Anna has an opportunity to work abroad for a few months, should she take it? Venetia and Martin are struggling to find a premises for their new venture, will they manage to get a place?
Episode 11 - A Leap of Faith - Thursday 23 October 10.30pm
Billing: Kate goes to Australia hoping her musical will be a hit. Alanna goes on a road trip and Anna has an interview for a job in Rwanda.
Episode 12 - A Somebody to Lean On (Tues 28 Oct)
Billing: Nicole reconnects with her best friends from school. Alanna distracts herself with handball and scary movies. Venetia and Martin go down memory lane in Malaga.
Longer synopsis: Venetia and Martin get away on their own for the first time in six years, will they remember why they got together in the first place? Alanna really wants to open up with her friends but doesn't know how. And Nicole wants to get a Unicorn when she goes horse-riding with her pals.
Episode 13 - Filling the Void (Thurs 30 Oct)
Billing: Alanna shares her feelings with her friends. Nicole goes on holiday to Ibiza and Elayne is interested in gender issues.
Longer synopsis: Alanna is happy to realize her friends are there for her but will she open up to them? Nicole enjoys the fun and the moon in Ibiza with Noel and her family, but can't get too drunk in front of her mother. Will Elayne let us in on her feelings of romantic chemistry?
Synopsis: Kate is showcasing her musical in the Adelaide fringe but all does not go as well as she hoped. Alanna goes shopping to Cork with the girls and discovers they have more in common than she thought. Anna is interested in a job in Rawanda but agonises over the prospect of leaving Ireland behind. Will she take that leap of faith?
Episode 14: Worth the Risk
Billing: Venetia is totally stressed as Martin spends money on the new business. Elayne is loved up. And Kate has to hear some tough emotions from her mother.
Longer synopsis: Will Venetia and Martin ever get the lease on the premises to start
their new deli? Kate hears her mother's reaction to her news that she is a sex worker and it is tough to take. Elayne is enjoying the romance in her life, will it all work out?

Episode 15: My Mother's Voice
Billing: Martin fits out the new deli while Venetia takes the kids on holiday. Alanna wants to give singing a go. And Kate has a visit from her parents, will she be able to stay upbeat?
Longer Synopsis: Will Kate and her mother be able to move on from her revelation that she is a sex worker? Unable to remember her mother's voice can Alanna overcome her own insecurity to sing in public? Venetia is proud of Martin's achievements opening the new deli but will she accept all his design choices?
Episode 16: I've Made My Choice
Billing: Nicole is thinking about babies, Alanna is proactive about her health and Anna must make a decision on her future.
Synopsis: Babysitting her little cousin is making Nicole think about children of her own. Alanna is enjoying the fun of the Rose of Tralee festival but is tormented by problems with her health. Can Anna sustain her love of comedy while making choices about her future?
Episode 17: The Best I Ever Had
Billing: Kate wants to move on with her life and focus on her music career, Elayne has a heart to heart with Hannah and Nicole looks forward to a family wedding.
Synopsis: Can Kate get away from all the talk of her sex work and focus on her music career? Elayne is gearing up for a big music gig and companionship is becoming more important to her. Nicole's aunt is getting married but Nicole worries about her appearance and the pressures women are under to look good.
Episode 18
Billing: Kate works on her new music single, Venetia and Martin launch the Artisan Parlour and Anna travels to Rwanda.
Synopsis: Venetia works on a launch party for the Artisan Parlour, can she ensure it's a success? Kate is working hard on her new music video and single as she hopes her music career will now take off and Anna says a tearful goodbye to Ireland and heads off to Rwanda.
Episode 19
Billing: Nicole and Alanna have their 21st birthdays and learn that family and friends are the most important thing. And Elayne also has a lot to celebrate.
Longer synopsis: Nicole turns 21 with her family and realises she has a lot to be grateful for. Alanna is celebrating her 21st too with a big gathering of friends and family that shows her she is far from alone in the world. Elayne has a headline gig, can she look forward to a bright professional and personal future?
Episode 20
Billing: A special episode were all six of the Connected women feature in the finale of the series and share their insights on documenting their lives.
Longer synopsis: Elayne, Kate, Nicole, Alanna, Anna and Venetia look back on their experience of being in the TV series Connected. Has filming their daily lives impacted on their reality? And what about the future, has the show given them any insight on their expectations?