Communion Day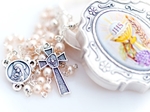 Communion Day - a new two part documentary offering a snapshot of family life in Ireland, against the backdrop of Communion Day.
She's got the white dress and the veil. He has the suit, the tie and the waistcoat. A party is planned with family and friends arriving from near and far. Mum and Dad may have paid more for the festivities in these recessionary times, but it's their son or daughter's big day out, so one to remember. And no, the story isn't about weddings. Each year thousands of Irish children in the Roman Catholic faith make First Holy Communion. Communion Day is a two-part documentary featuring stories of eight families and their lives as they journey towards one of Ireland's landmark family rituals.
In Programme One, will a bouncy castle arrive on time in Donegal for settled traveller Patrick O'Leary? In Cork, will Laoise Cronin leave her wheelchair and walk up the aisle? Will uncles and aunties from Cameroon make it to the Nyambi's double celebrations in Limerick? Or will the Lloyd family's Druid communion in Mayo be all they hope for?
In Programme Two, the birth of Laura Madden's new baby sibling is due the week of her Communion Day. The Virginios from the Philippines hope relatives will travel for their karaoke party in Galway. The McLoughlins in Offaly are worried about factory lay-offs. And most concerning of all, Jessie Kelly's mum in Ballyfermot may miss the ceremony because of an impending heart operation...
Times as well as family life in Ireland may be changing, but some things, like First Holy Communion Day are at their heart, pretty much the same...