Come West Along the Road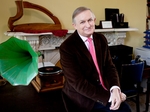 Presented and researched by Nicholas Carolan, director of the Irish Traditional Music Archive in Dublin, Come West along the Road is now in its 15th series. It began broadcasting in 1994, and is the longest-running television series ever on Irish traditional music. The new series coincides with the twenty-fifth anniversary of the founding of the Archive.
The series consists of 13 half-hour programmes drawn from the early years of RTÉ television (1961-1994), with additional material from other television stations, newsreels, feature films, and private film footage. Some material is being shown for the first time, and most of the material in the series has not been seen since its first transmission up to 40 years ago.
Leading exponents of traditional music, song and dance, some long-dead, some in their youth, mingle with wrenboys, set dancers and unknown performers captured in studio or at fleadh cheoil or festivals, to present an entertaining and unique documentation of Irish traditional music in the last half-century. To date, over 2,000 performers have appeared on over 180 programmes of Come West along the Road, and also on ten series of Siar an Bóthar, the Irish-language version of the series on TG4. Four DVDs of highlights from earlier series have been published and are available from the RTÉ shop.
The primary focus of the series is on music, but there is also a fascinating dimension of social history to this early material: townscapes and country-side, dress and hairstyles, houses and furniture, and the development of the medium of television itself.
The new series pushes forward into 1994, the year that Come West began broadcasting. It will feature footage from fleadhanna ceoil of 1993 and 1994 and footage from the television archives of BBC Northern Ireland. Also featured will be classic performances from further editions of the early 1990s RTÉ series The Pure Drop, which had moved to a new venue in the Scoil Naithí gaelscoil in Ballinteer, Co Dublin.