Colin and Graham's Excellent Adventures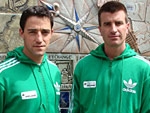 This new series follows sports fanatics Colin Carroll and Graham Little as they traverse the globe blagging their way into some of the worlds most unusual and extreme sporting contests
From bull-racing in India to camel-racing in Oman the pair attempt to enter these competitions as the official Irish team even if they have never taken part in the sport before.
The range of championships that they tackle in the series includes sumo-wrestling in Japan, bull-racing in India, horn-sleighing in Germany, Jeep-racing in Iceland, bodybuilding in Milan and camel-racing in Oman.
Episodes
Programme 1
Programme one sees the fearless duo head to Kerala in Southern India in the hope of taking part in a local bull-racing contest. This dangerous sport involves water-skiing behind specifically trained and slightly inebriated bulls.
Colin and Graham meet with the event organisers in the hope of convincing them that they are the Irish bull-racing champions. However, after a brief introduction to some of the feisty racing bulls it quickly becomes clear that Colin and Graham may not be as familiar with the sport as they are making out.
The pair enlist the help of some friendly locals who enter them in a traditional wrestling competition. With the help of their new friends Colin and Graham succeed in impressing the locals with their wrestling skills but will it be enough to secure a place in the treacherous in the bull racing contest?
Programme 2
Toefaera is Iceland's - and the world's - most dangerous motorsport. Take one flimsy jeep, fill the tank with an explosive mix of nitrous oxide and then drive it over a cliff. Not surprisingly, there has never been an Irish team, until now.

In the second of "Colin and Graham's Excellent Adventures" Colin Carroll and Graham Little travel to Iceland's lunar landscape to represent Ireland in the World Torfaera Competition. Under the supervision of champion driver Ragnar Roberts, they learn the ropes before attempting the course, whose obstacles include the Wall of Death and the Doomsday Pit.
"Bury me in Fermoy" were Colin's last words before pushing the throttle..