Code Black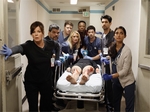 Inspired by the award-winning documentary by Ryan McGarry, "Code Black" is a heart-pounding medical drama that takes place in the busiest ER in the US, where the staggering influx of patients can outweigh the limited resources available to the extraordinary doctors and nurses whose job is to treat them all - creating a condition known as Code Black.
At the heart of the ER's controlled chaos is Residency Director Dr. Leanne Rorish (Academy Award winner Marcia Gay Harden), renowned for successfully performing high-risk procedures in Center Stage, the trauma area reserved for the most critical cases. Her four new first-year residents are Christa Lorenson (Bonnie Somerville), Malaya Pineda (Melanie Kannokada), Mario Savetti (Benjamin Hollingsworth) and Angus Leighton (Harry M. Ford). Leanne's confidante, Jesse Sallander (Luis Guzman), is an amiable seen-it-all senior nurse who manages the residents. Also working in the ER is Dr. Neal Hudson (Raza Jaffrey), an excellent physician who sometimes disagrees with Leanne's "cowboy" approach, and Dr. Rollie Guthrie (William Allen Young), the energetic, longest-serving attending. In Center Stage, life is measured in seconds, and these heroic doctors and nurses operate with speed and skill within an overwhelmed system to treat the crowds of people who are often there for one of two reasons: to die or to receive a life-saving miracle.
"Code Black" stars Marcia Gay Harden as Leanne, Bonnie Sommerville as Christa, Raza Jaffrey as Neal, Luis Guzman as Jesse, Melanie Kannokada as Malaya, Harry M. Ford as Angus, Benjamin Hollingsworth as Mario, and William Allen Young as Guthrie.
"Code Black"? was written by Michael Seitzman. Michael Seitzman, Marti Noxon, Linda Goldstein-Knowlton, Ryan McGarry and David Semel are executive producers for ABC Studios in association with CBS Television Studios. The pilot was directed by David Semel ("Madam Secretary").
CAST
Marcia Gay Harden as Dr. Leanne Rorish, Bonnie Somerville as Christa Lorenson, Raza Jaffrey as Dr. Neal Hudson, Luis Guzmán as Jesse Sallander, Melanie Chandra as Malaya Pineda, Harry Ford as Angus Leighton, Benjamin Hollingsworth as Mario Savetti, William Allen Young as Dr. Rollie Guthrie
RTÉ One, Thursday, 11.30pm