Cloch Le Carn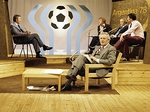 CLOCH LE CARN - BILL O'HERLIHY
Italia '90, USA '94 and Saipan.all buzzwords in Irish sporting history. Ray Houghton, Jack Charlton and Roy Keane all had starring roles but for the Irish public at home watching events unfold in their sitting rooms, Bill O'Herlihy was in the magic ingredient that brought all these iconic sporting events to the Irish public.
One could say that Bill O'Herlihy's career was a game of two halves, played out between current affairs and sports broadcasting. CLOCH LE CARN casts an eye over the full match that was the life of Bill O'Herlihy.
Bill O'Herlihy was born in Cork in 1938. From childhood he wanted to be a journalist, and follow in his grandfather's footsteps as News Editor of the The Cork Examiner.
In 1965, while working for The Cork Examiner, Bill was given an unexpected offer to cover the 50th anniversary of the sinking of the Lusitania for Frank Hall's Newsbeat television programme on RTÉ. It was an offer he couldn't refuse! Bill was to become one of the first regional reporters for our only television channel at the time and reported on anything and everything from Cork and its environs. He became 'kind of a big deal' in Cork. The reports he did often came close to being Monty Python-esque with a man being buried alive in one, homemade violins in another and not forgetting odd Hollywood starlet like Jayne Mansfield causing uproar! Bill was happy in Cork and didn't have much desire to cross the county boundary, but that he did, when his versatility and journalistic skills were noticed and he landed a job with the RTÉ primetime current affairs show 'Seven Days'.
In 1969 Bill was the reporter on a Seven Days programme which exposed illegal money-lending in Ireland. The programme's production methods caused controversy and led to both an internal RTÉ inquiry as well as an Oireachtas Tribunal of Inquiry.
In the wake of the fallout from the Tribunal of Inquiry, Bill made a permanent move to RTÉ Sport where he has covered everything from the '72 Munich Olympics to Italia '90, to Katie Taylor winning Gold at the Olympics. He has tried to keep the studio panel under control since its inception in 1978. That panel really came into its own in Euro'88 when we finally had a chance to talk about our Boys in Green on the international stage. A nation held its breath in Italia '90 and for those who couldn't be there in Italy, Bill O'Herlihy, Eamon Dunphy and John Giles made us feel like we were there with their exuberant studio punditry. He has mediated and agitated panel discussions on Jack Charlton, Trappatoni, Roy Keane and Monkeane. Pens have been flung and insults have flown before him. His daughter Sally sums it up when she says 'It's a lovely way to have lived your life to have been part of the happiest occasions that a country has seen.'
Bill O'Herlihy also had a life 'off the pitch'. When Bill made his move from current affairs he came up with a 'plan B' in case the sports broadcasting didn't work out and in 1973 he founded O'Herlihy Communications - a public relations agency working with, amongst others, Fine Gael. As part of his work with Fine Gael Bill became one of the members of the group known as The National Handlers. Their aim was to revitalise and modernise the party and Bill's communication and television skills were priceless. Although a staunch Fine Gael man Bill had a lot of time for fellow Cork man Jack Lynch and was once asked to run for Fianna Fá??il. In the words of Frank Flannery 'that's where the pull of the old Fine Gael came to pass and there was a certain red line he was not prepared to cross'.
Bill retired from RTÉ Sport after the World Cup Final between Germany and Argentina in 2014. However, he couldn't walk away from the lure of television and was getting ready to shoot a new series with a working title of #Billlosbest. He'd shot the promo the Friday before he died on Monday 25th May 2015. He is survived by his wife Hilary and daughters Jill and Sally.
In this programme we hear from the people who knew him best; his daughters Jill & Sally, his friend Frank Flannery and on screen sparring partner Eamon Dunphy. Terry Prone, Emmet Ryan, Pat Butler and Bob Collins are also contributors. This episode of CLOCH LE CARN features rarely seen footage from RTÉ's coverage of Euro '88 and Italia '90 as well as footage of what would have been Bill's new show #Billosbest.
CLOCH LE CARN - DEREK DAVIS
"Derek's sense of humour and his wit were phenomenal." Thelma Mansfield
"There was another part of him that was quite contemplative and, standing on a river bank on a drizzly day, catching nothing but a cold, he loved." Colm Davis
"Fear mór abhí ann. Ach bhí pearsantacht mór aige. Bhí gach rud mór faoi Derek agus sin an fáth go raibh an méid sin grá ag daoine dó." Evelyn O'Rourke
For over 30 years Derek was a familiar and distinctive voice in Irish broadcasting. Born in 1948 to a Protestant father and Catholic mother in Holywood, Co. Down and later something of a "blow-in" down South, Derek always saw himself as an outsider. But as an outsider he had licence to bring a certain irreverence to his commentary. Allied to his quick wit and skill as a wordsmith, this set his work apart.
"Most of us who have any success are one-trick ponies. But there really wasn't anything in the business that Derek couldn't do." Brendan Keenan
Highly versatile, Derek made a number of seamless transitions between quite diverse broadcasting disciplines. Unusually his career spanned news, TV and radio as he became in turn a news reporter, a newscaster, a presenter of light entertainment programmes, a documentary-maker and finally a radio essayist. His conversational skills, combined with a genuine interest in people and an almost encyclopaedic knowledge, meant that there were few topics which Derek was not equipped to tackle.
"Bhí sé an-nádúrtha. Bhí spéis aige i ndaoine, rud atá fíor-thábhachtach do chraoltóir agus bhí réimse fairsing spéis aige fhéin. Ba bheag rud nach raibh spéis aige ann." Bob Collins
"He was so versatile. There was no subject that he couldn't tackle and he was so competent, a brilliant scriptwriter and he could have done any programme." Thelma Mansfield
"It did seem surprising sometimes that he wasn't getting more work." Brendan Keenan
In his personal life Derek was a dedicated family man, a loyal friend and an entertaining host. He loved boats and fishing and he loved his food. Derek was very candid over the years about his weight problems and late in life opted to undergo bariatric surgery. In a number of TV, radio and press interviews he spoke passionately about the stigma surrounding obesity and the need to stop fat-shaming.
Derek died on 13th. May, 2015 and is survived by his wife, Úna and sons Michael, Colm and Seán.
"Cloch le Carn - Derek Davis" recalls Derek's life and work, through the eyes of colleagues, friends and family including his son, Colm and brother-in-law, Des Cahill. Bob Collins, Thelma Mansfield and Brendan Keenan also contribute.
Taighde & Tuairisciú : Sinéad Ní Úalacháin
Stiúrthóir / Léiritheoir : Frank Hand