Cloch Le Carn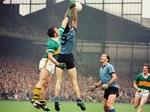 EPISODE 1: CLOCH LE CARN - PÁIDÍ Ó SÉ
On the 15th of December 2012, Ireland lost one of its most passionate, colourful and recognisable sporting icons when Páidí Ó Sé died suddenly at the age of 57 at his home in Ceann Trá, West Kerry.
Páidí won an extraordinary 8 All-Ireland Senior Football medals and he captained Kerry to the 1985 title. His speech on the Hogan Stand as he received the Sam Maguire has become part of Irish folklore. He also managed Kerry between 1995 and 2003 and led the county to All-Ireland glory in 1997 and 2000.
Páidí's early career playing for Kerry coincided with his professional life as a Garda stationed in Limerick. However, he decided to give up his life of fighting crime to become a publican, initially leasing the famous 'Kruger's Pub' in Dún Chaoin before he opened his own pub in Ard a' Bhóthair in the mid-eighties. Páidí was the star attraction and many celebrities like Dolly Parton and Tom Cruise paid him a visit.
Páidí was very proud of his family, his roots in Corca Dhuibhne and of the traditions of Kerry football. At times, however, he could be a controversial figure as was the case in early 2003 when he called the Kerry supporters 'F***#ing animals'. Although Kerry reached the All-Ireland semi-final that year, Páidí was sacked as manager, a decision that hurt him deeply. But every cloud has a silver lining as Westmeath offered him a job the following week and they went on to win a Leinster title under Páidí for the first and only time in their history.
This episode of Cloch le Carn delves into the archives to look back at Páidí's career on and off the pitch, with personal contributions from Mick O'Dwyer, Jack O'Shea, Dara Ó Cinnéide, Micheál Ó Muircheartaigh, Brian Mullins, Fiona Looney, Tomás Ó Flatharta and Mártan Ó Ciardha.
Presenter / Reporter Garry Mac Donncha
Producer / Director Seán Ó Méalóid
CLOCH LE CARN - PÁIDÍ Ó SÉ
Ar an 15ú Nollag 2012, cháill an tír seo duine de na laochra spóirt ab aitheanta, ildánach agus paiseanta nuair a bhásaigh Páidí Ó Sé go tobann in aois a seacht mbliana s' caoga i gCeann Trá, Ciarraí Thiar.
Ghrú Páidí 8 mbonn shinsir uile -Éireann sa bpeil agus bhí sé ina chaptaen ar Chiarraí nuiar a thugadar leo an chraobh i 1985. Thug sé óráíd stairiúl ar Ardán Uí Ógáín agus an chorn ina ghlaic aige, píosa cainte atá anois mar chuid de bhéaloidis na tíre. Bhí sé ina bhainisteoir ar fhoireann na ríochta idir 1995 agus 2003 freisin, é i bhfeighil do bhuanna Uile-Éireann an chondae i 1997 agus 2000.
I mblianta tosaigh Pháidí ag imirt do Chiarraí bhí sé ina Gharda lonnaithe i Luimneach, ach shocraigh sé a shaol ag cosaint an phobail a chaitheamh in aer nua nuair a ghlac sé Tigh Kruger i nDún Chaoin ar cíos agus thug sé faoina ghairm nua mar thábhairneoir. D'oscail sé Tigh Páidí Ó Sé i lár na nochtóidí in Ard a Bhóthair agus mheall sé na réalta móra ar nós Dolly Parton agus Tom Cruise le cuairt a thabhairt air.
Bhí Páidí thar a bheith bródúil as a chlann, a fréamhacha i gCorca Dhuibhne agus as an tradisiún a bhain le caid Chiarraí. Ach uaireanta bhain conspóíd lena thréímhse bainistíochta, go háirithe i dtús na bliana 2003 nuair a bhaistigh sé 'F***#ing animals'ar lucht leannta Chiarraí. In aineoinn gur shroicheadar cluiche leath-cheannais na hÉireann an bhliain sin fuair Páidí bata agus bóthair agus ghoill sé go mór air. Ach seachtain dár gcionn fuair sé glaoch ón Iarmhí le dul i gceannas orthu agus go stairiúl threoraigh sé iad chomh fada le Craobh Laighean a ghruachtáíl don chéad uair riamh i 2004.
Caitheann an eagrán seo de Cloch le Carn súil ar shaol Pháidí tríd an chartlann agus ina theannta seo tá agallaimh le Mick O'Dwyer, Jack O'Shea, Dara Ó Cinnéide, Micheál Ó Muircheartaigh, Brian Mullins, Fiona Looney, Tomás Ó Flatharta agus Mártan Ó Ciardha.
Láithreoir / Tuairisceoir Garry Mac Donncha
Léiritheoir / Stiúrthóír Seán Ó Méalóid
RTÉ ONE, Monday 10 March 2014, 7.30pm
EPISODE 2: CLOCH LE CARN - COLM MURRAY
Cláracha Gaeilge RTÉ brings you a documentary portrait of the late legendary broadcaster Colm Murray that looks back over a remarkable broadcasting career spanning 35 years. Creating television history in 1989 by becoming one of the first ever sportscasters on RTÉ news, he went on to became the authoritative voice of horse racing in Ireland.
When Colm failed to get to his beloved Cheltenham Festival in 2009 due to RTÉ cutbacks, his friends, the musical duo Foster & Allen, offered to pay his fare and called his absence a 'national disgrace'.
In 2010 Colm was diagnosed with Motor Neurone Disease, a fortnight after working at that years Cheltenham. On his diagnosis Colm said;
" Of all things going, I used to pray to god please don't let it be Motor Neurone Disease..I am bloody well sure I am not going to let this thing change me. I see no reason why I should grant it that power or authority so to hell with it."
A long and difficult battle ensued for Colm and his family.
Fondly remembered by sports fans, Colm brought a unique and engaging style to his broadcasts, irrespective of the discipline his unwavering enthusiasm and passion for sport always shone through.
The programme brings us a treasure of classic Colm Murray reports peppered with the colour, excitement, madness and high emotions of Italia 90, one of his career highlights. We re-live those unforgettable scenes from the Stadio Olimpico after Schillaci truly burst the Irish dream.
Always full of charm, personality and humour, Colm delivered his reports with a considerable dollop of linguistic gymnastics. In tonight's documentary he is fondly remembered by colleagues and friends, including broadcasters Sean O'Rourke, Robbie Irwin, Evanne Ní Chuilinn, Breandán O'Rourke and leading horse trainer and friend Willie Mullins.
Reporter - Sinéad Ni Churnáin.
Producer/Director- Brian Páircéir
RTÉ ONE, Monday, 17 March 2014 7.30pm