Cloch Le Carn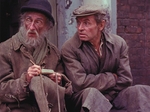 Programme One
In February 2012, David Kelly, one of Ireland's most charismatic, versatile and iconic actors died, at the age of 82, after a short illness. He left behind a body of work that will be long remembered in film, television, radio and on stage and was proud of the fact that he never retired. He was a dapper dresser who always wore a bow-tie and said that denim was "the work of the devil". Cloch le Carn looks back at the life and times of David Kelly through the eyes of those who know him best including his son and daughter David and Miriam, as well as colleagues and friends Niall Tóibín, Maureen Toal, Mary McEvoy and Alan Stanford.
Although David trained as a calligrapher and draughtsman his first love was the stage and he cut his teeth at the Abbey School of Acting. He was a regular on all the major stages of Dublin throughout the 1940s and '50s and it was while working at the Pike Theatre that he met fellow actress Laurie Morton who was later to become his wife of over 50 years and with whom he had 2 children. David gained early attention in Samuel Beckett's Krapp's Last Tape which he performed on the Abbey stage in 1959. He revived this role for a performance that lit up the Gate's first Beckett Festival in 1991.
The dawning of the television era in Ireland meant that David's versatility as an actor had a new platform and he appeared in lots of dramas and plays throughout the 1960's on RTÉ. But it was on British TV screens that he really made his mark, starring opposite Milo O'Shea in Me Mammy, appearing as the hapless builder O'Reilly in an iconic episode of Fawlty Towers and then playing the part of Albert Riddle, the one-armed kitchen hand in the successful ITV sitcom Robin's Nest.
But it was his performance as the tragic tramp Rashers Tierney in the acclaimed RTÉ drama Strumpet City in 1980 that forever endeared him to Irish audiences, and it was also his own favourite role from his distinguished career. He appeared in Glenroe as the scheming Sylvie Dolan.
David's movie career took off later in life and he was introduced to new audiences with major roles in Into the West, Waking Ned (which he claimed made him a sex symbol after he appeared naked on a motorcycle) and Charlie and the Chocolate Factory where he played the part of Grandpa Joe opposite Johnny Depp.
David Kelly was universally loved by those who knew him and worked with him. He was honoured with an IFTA Lifetime Achievement Award in 2005.
Programme Two
Joe Lynch ended his career as a household name, maybe better known as Dinny Byrne, the Wicklow farmer he played in Glenroe and before in Bracken for so many years.
But Joe was more than Dinny - an actor, a singer, a comedian - theatre, radio, TV he was a multi-talented performer but always a Corkman!
Now more than a decade after his death he's still fondly remembered by his friends and legion of fans.