Cloch Le Carn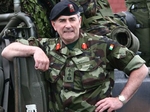 The title of this occasional series "Cloch le Carn " could be literally interpreted as "adding a stone to the funeral mound" but in reality the series takes a constructive but not always uncritical look at public figures who've made a contribution to Irish society in their lifetimes.
Episodes
Programme One:
"Dermot Earley was a good man; in fact he was a great man, but to the people of Roscommon, he was a mighty man." These were the word spoken by Monsignor Eoin Thynne, Head Chaplain of the Defence Frces at the funeral mass of the former Chief of Staff, who died in June 2010 at the age of 62.
Regarded as a born leader on the football pitch, he played minor championship football for Roscommon in 1963 at the age of 15, two years later he was promoted to the Roscommon senior side and won the first of five Connacht championship medals in 1972 as well as an All Ireland medal in 1966. Twice an All Stars award winner, he won a National League medal in 1979, an All Ireland runners-up medal in 1980 and two Railway Cup medals .He retired from inter-county football in 1985 and as a measure of his popularity was carried shoulder high from the pitch by members of the opposing Mayo team. Dermot Earley was also both a skilful rugby and soccer player, often lining out for the Army rugby teams under the pseudonym "Lieutenant Late" in the days of the GAA "Ban".
Having joined the Defence Forces as a cadet in 1965 Dermot Earley rose through the ranks to emerge as one of its most highly regarded chiefs. He had a variety of operational and administrative appointments including two tours of duty with UNIFIL in Lebanon and later as a UN military observer. From 1987 to 1991 he served as Deputy Military Observer to UN Secretary General Javier Perez de Cuellar. He called on his international experience to reform and modernise the Irish Defence Forces as Chief of Staff.
Dermot Earley was known for his impassioned oratory, especially while addressing younger members of the Defence Forces reminding them of the confidence he had in them. Both his military and sporting colleagues remember him as an inspirational figure who bought out the best in people. It has been suggested that his unique leadership qualities would have made him an ideal candidate for the Presidency however he fell seriously ill in 2009. This giant of a man was cut down within months by a rapid degenerative brain disease - CJD (Creutzfeld-jakobs disease). His last public appearance was in April 2010 when he was presented with a distinguished service medal by an Taoiseach, Brian Cowen.
".He was the greatest footballer never to win an All Ireland".
(Colonel John Courtney)
"Dermot shook my hand. I felt this great surge of strength going through ."
(Gerry Fitzmaurice, former Roscommon player)
"I would like to remember him from the army as a man who led us from the front ."
(Major General David Ashe)
."In the end he didn't know who he was or what he was.you had to bring him with you and mind him and steer him. that was the horrible part of it."
(Mary Earley - Dermot's Wife)
I'm very proud to be able to say that, yes, Dermot Earley was my father and I learnt so much from him and felt so much love from him.".
(Capt. Dermot Earley Jnr.)