Class Swap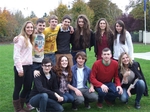 CLASS SWAP, a new documentary series for RTÉ ONE, follows three groups of Irish teenagers as they abandon their classrooms to sample the realities of school life in Finland, Poland and Spain.
This adventurous and challenging exercise takes place over a two-week period, when twelve Irish students and three of their teachers immerse themselves in schools and communities to find out what school life is really like across Europe. Along the way, they assess how our Irish education system compares and what it is like to be a teenager in another country.
CLASS SWAP features three radically different countries with equally varying approaches to Education: Finland, the European poster boy for education where individuality is seen as key to their system; Poland, the country which boxes way above its weight considering its lack of resources and small education budget; and Spain, a country suffering a worse recession than Ireland and where schools are having to cope with crippling cut-backs. Throughout the six-part series our inquisitive, intrepid reporters from Limerick, Meath and Leitrim give eye-witness accounts, share exciting experiences and deliver fascinating insights on education and much, much more.