Class Clowns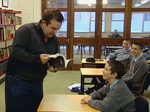 Class Clowns is a new six-part series that sees stand up comics return to their old schools for a very special one-off gig in front of their former classmates and teachers, along with some current staff and pupils.
Inter-cut with interviews from those who knew the comics in their school days, the series roll call features Jon Kenny, Niall Tobin, Karl Spain, Frank Carson, Deirdre O'Kane and Jason Byrne.
Throughout the series not only do we get to see a range of comic styles, from the laid-back story telling of Niall Tobin to the boundless energy of Jason Byrne, but we also get a glimpse at the social mix that made up Irish schools in decades past. We see how in the 80s Karl Spain's Christian Brothers school in Limerick had its very own TV station, how Jon Kenny's rock group "Gimik" played their earliest gigs in his school hall and how the Loreto nun's ensured Deirdre O'Kane stayed well out of harm's way while she boarded with them in Rathfarnham.
Part school reunion and part stand-up, Class Clowns is a warm and funny series that puts the everyman experience of school days in some seriously witty hands.
Episodes
Programme 1
Jon Kenny makes a return to the Vocational College in Hospital, Co Limerick.

Programme 2
Karl Spain returns to CBS Sexton Street in Limerick.

Programme 3
Niall Toibin visits North Monastery CBS in Cork.
Programme 4
Jason Byrne revisits Ballinteer Community School.
Programme 5
Frank Carson returns to St Patrick's boys school on Donegall Street.
Programme 6
Deirdre O'Kane revists the halls of Loreto Rathfarnham.