Chaplin: The Waterville Picture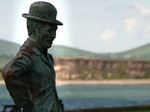 Chaplin: The Waterville Picture is a fascinating insight into Charlie Chaplin's love affair with the Kerry town of Waterville and its people. With invaluable access to the Chaplin archive, this unique film will tell the only Chaplin story yet untold. Chaplin first came to Kerry in 1959 with his wife Oona O'Neill and continued to visit until 1969. His daughter Josephine still comes here and along with her sister Annie has a house in the area. Julien, her son, went to secondary school here and her other son Arthur (the documentary's narrator) continues to visit. An interesting fact that emerges during the documentary is that GAA legend Mick O'Dwyer's mother cooked for Charlie Chaplin in Waterville.
Charlie Chaplin was born in London in 1889 and lived to a ripe age of 88. In his lifetime he became one of the most popular cinema stars in the world. His story has been well documented on countless occasions but one important facet of it has been left untold until now, Chaplin's love of Waterville, the town, its environs and its people. The documentary features the stories of many local people who knew and came into contact with Charlie.
Chaplin: The Waterville Picture is produced by Joe McGill and Connie Broderick and directed by Garry Keane.
RTÉ One, Tuesday 29 May 2012 10.15pm