Championship Matters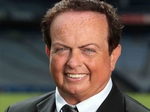 As the big games approach this summer, GAA fans will once again be able to kick off their weekend early, with the return of Championship Matters to Thursday nights on RTÉ Two.
The league is over and the first championship games have thrown in. The long road to Croke Park in September starts now! With over 80 games to be decided in the All Ireland Football and Hurling Championships, there will be a lot to talk about before Liam and Sam find new (or maybe not-so-new) homes this September.
Broadcast live from studio, the show will be THE place for in-depth discussion of all the issues of the GAA summer, setting the agenda with some of the country's best known players, managers and commentators.
As usual, clichés are banned in the Championship Matters studio. You won't find any "game of two halves" here, just honest, no holds barred opinion and discussion, with Marty Morrissey the man in the middle asking the questions.
Throw in previews of the big weekend games, where sitting on the fence is against the rules, and input from you, the viewers, and you have yourself a winning championship combination.
Each week the public will have an opportunity to have their say on the topics discussed on a Thursday evening. You can get in touch now via Twitter @RTÉChampMatters or through The Sunday Game Facebook page.
Get yourself comfortable, there is a long summer ahead, and Championship Matters is where the sparks will fly!
RTÉ One, Thursday, 8.30pm