Catherine's Italian Kitchen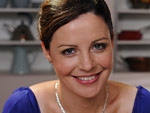 Irish chef, food writer and cookery teacher, Catherine Fulvio bursts onto our screens this November with the colourful new cookery series, Catherine's Italian Kitchen.
The show is filmed between Sicily and Ireland and is really more of a culinary journey and celebration of Southern Italy than just a cookery show, resulting in perfect viewing for long, dark winter evenings. Each episode features 3 recipes in addition to visits to Sicilian towns where Catherine meets with the locals, discovering everything from their shopping habits to age-old recipes handed down through the generations.
Beautifully shot, and created and produced by RTÉ Cork, the show features spectacular Sicilian scenery and some fun scenes where the locals get together for great food and family fun. Indeed, the very essence of the show celebrates families and friends coming together for informal meals.
Fulvio's naturally vivacious personality and pure infectious enthusiasm for food complements the sunny Sicilian landscapes as she prepares a variety of mouth-watering, traditional Sicilian dishes, dispensing helpful advice throughout.
Catherine, herself a Wicklow native, says she learnt her cooking skills from her mother and then honed them at Ballymaloe Cookery School. She is married to a Sicilian, Claudio Fulvio, and they have two young children. Catherine is enthusiastic to share with viewers her two greatest culinary passions: Southern Italy and great family dining. Viewers will be treated to a 'no fuss, no bother' approach to preparing authentic Italian dishes such as Calamari Picante en Melanzane (spicy squid with aubergine) and other tasty dishes.
Other Catherine Fulvio Programmes: