Castle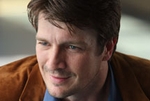 American comedy-drama television series following a wildly famous mystery novelist who, bored with his own success, is called in to help the NYPD solve a copy-cat murder based on scenes depicted in his novels.
Castle is questioned by NYPD Detective Kate Beckett (Stana Katic, "The Spirit"), a bright and aggressive detective who keeps her investigations under a tight rein. Though they instantly clash, sparks of another sort also begin to fly, leading both to danger and a hint of romance as Castle steps in to help find the killer.
Nick is kept grounded by his Broadway diva mother, quick-witted teenage daughter and his long-suffering ex-wife... who happens to be his editor.
Cast
Nathan Fillion as Richard Castle
Stana Katic as NYPD Detective Kate Beckett
Susan Sullivan as Martha Rodgers
Molly Quinn as Alexis Castle
Ruben Santiago-Hudson as NYPD Captain Roy Montgomery
Tamala Jones as Medical Examiner Lanie Parish
Jon Huertos as NYPD Detective Javier Esposito
Seamus Dever as NYPD Detective Kevin Ryan
Guest Cast
James Patterson as Himself
Stephen J. Cannell as Himself
Monet Mazur as Gina Cowel
Keir Dullea as Jonathan Tisdale
Dan Castellaneta as Judge Markway

RTÉ One, Saturday, 11.00pm