Can't Cope, Won't Cope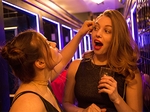 Some say it caused the recession, Coppers getting its own ATM. It's certainly put a dent in the bank accounts of Aisling O' Dowd (Seana Kerslake) and Danielle Mullane (Nika McGuigan). Can't Cope, Won't Cope is a darkly comic drama detailing the unravelling of a friendship between two co-dependent young women as the hangover wears off and their lives and priorities begin to radically diverge.
Danielle and Aisling get as excited about the 'euro saver menu' as their school friends now get about their engagements. And they both agree that the real walk of shame is when you bring all the mugs and plates gathered in your room back down to the kitchen. They are a perfect fit.
Set in contemporary Dublin, in the house they have shared since moving from Cork, these two very different twentysomethings navigate their respective professions; a high-powered finance job in Aisling's case, and a struggling art career in Danielle's.
Aisling is used to getting her own way and Danielle, never one to hog the spotlight, is only too happy to go along with it. But 'going along with it' is starting to lose its appeal; there seems to be a lot more cleaning up than just last night's empty cans.
Aisling has learned that if you leave a mess for long enough, someone else will clean it up.
Something is changing and Aisling, head firmly turned in the opposite direction, is going to be the last to find out. After years of living in each other's pockets, the shine is wearing off for Danielle. As she starts to invest in her other relationships, like the charming Ferg (Muiris Crowley) things come to a head for Aisling. Her boss (Amy Huberman) is losing patience with her. Her part time love interest Lorcan (Laurence O Fuarain) has a full time girlfriend, and professionally, things are coming to a very ugly head.
The one thing that holds Aisling and Danielle together, their fear of reality, might wind up being what drives them apart. They may not know it yet, but the sobering light of day has them firmly in its sights.
Episodes
Can't Cope, Won't Cope, Episode 1: I wanna be like you, RTÉ2, Monday September 19th at 10pm
It's Thursday night, the girls are out. Bright lights, high hopes. Friday's hangover is worsened by Aisling's annual review in work. The company actually want her to upskill and they're planning to pay her more, like. Her worst nightmare. Likewise Danielle has a creative wobble in college with mounting pressure from her lecturer to really push her work before her end of year exhibition. To block it all out, the girls hit the town. A typical drunken night ensues and Danielle leaves Aisling to the boy who's flirting with her. Danielle is accompanied home by a rickshaw driver and Aisling wakes up in a bed that may be too close to home.
Episode 2: Drive on, Drive on, Drive on, Drive on, RTÉ2 Monday, September 19th at 10.30pm
A brutal hangover and work pressures mount for Aisling, but she deals with them as only she can, quickly and with surprising success. Celebrations ensue when Aisling gets the company out of hot water. When the company drinks turn into a fully fledged night out, Danielle joins Aisling and the girls take off on a giddy adventure to the beach where they come across an empty car with the keys still in the ignition. The night takes a turn when Aisling takes the fun a step too far and Danielle is hit by reality.
Episode 3: Welcome to Ireland, RTÉ2, Monday, September 26th at 10pm
Aisling's (Seána Kerslake) work are hosting their most important clients in Dublin. When the team take their clients for a business dinner, Aisling's plans to stay sober are thwarted when Lorcan (Laurence O'Fuarain) starts buying her drinks to charm her. Loose lipped from the tequila, Aisling skates on thin ice with her American client and calls Danielle (Nika McGuigan) to come and save her.
Danielle leaves her college-mate Ferg (Muiris Crowley) at the top of a ladder to join the party and the situation goes from bad to worse when Danielle reveals confidential information Aisling has told her. Aisling goes back to Lorcan's to find a sobering reality waiting for her. As usual she looks to Danielle to pick up the pieces but this time Danielle is busy. Aisling's mother summons her home.
Episode 4: Mallowfornia, October 3rd at 9.30pm
Danielle and Ferg plan a fun weekend together before the madness of their final year exhibition kicks off. Aisling can't cope with the idea of a weekend alone in Dublin, and not being included in Danielle's plan's so she give in to her mothers demands and heads home on the train to Mallow. The trip ends up being one she wished she never made when her parents drop a bombshell on her. To distract herself she decides to dredge up the past with an old flame who drops yet another dose of reality. Aisling, not knowing what else to do, goes on an inter-county bender. Incoherent from the alcohol, Aisling quickly realizes that you can run from your problems but you can't hide.
Biographies
AISLING: SEÁNA KERSLAKE
Seána trained with the Screen Acting Programme at The Factory in Dublin, and has a Bachelor of Arts Degree in Music & English from NUI Maynooth. Seána most recently played the leading role of Mary in Darren Thornton's feature film A Date For Mad Mary, which premiered at the Karlovy Vary Film Festival and will have it's Irish Premiere at the Galway Film Fleadh in July 2016. Film credits include Dollhouse directed by Kirsten Sheridan in which she plays the role of Jeannie, Life's A Breeze directed by Lance Daly, The Lobster directed by Yorgos Lanthimos and the short film A Long Shot directed by Andrew Jordan. Other short film work includes; Skit and Pebbles directed by Gavin Butler in which she plays the role of Pebbles, Falling directed by Kenan Demirsay, The Hard Way directed by Imogen Murphy and Darkroom directed by Eoin Heaney. Seána's recent theatre credits include the lead role of Eva in Awake and Sing Production's From Eden directed by Karl Shiels, the role of Lydia in a touring production of Hooked! directed by Don Wycherley and The Bruising Of Clouds directed by Jim Culleton with Fishamble. 2016 saw Seána cast in the co-lead role of Aisling in Stefanie Preissner's forthcoming series for RTÉ, Can't Cope Won't Cope, directed by Cathy Brady.
DANIELLE: NIKA MCGUIGAN
Nika is an Irish Actress who was raised between County Monaghan in Ireland and Kent in England. Nika most recently played the role of Anne-Marie in Rebecca Daly's feature film Mammal, which screened at the 2016 Sundance Film Festival and the role of Orla in the independent feature Traders directed by Peter Murphy and Rachel Moriarty. Film credits include the role of Chrissie in Jim Sheridan's The Secret Scripture, Lost in the Living directed by Robert Manson, Philomena directed by Stephen Frears, Stay, directed by Wiebke Von Caroldfield The Shot directed by Chris Wade, Pieces directed by Jessica Lurel, Glory directed by Joe Murphy, Double Dads directed by Robert Bertrand, Office Politics directed by Dominic Geraghty, and Speed Dating directed by Tony Herbert. Nika's television appearances include the ITV series Undeniable, Play Next Door: If Those Lips directed by Charlie McCarthy for RTÉ, Dani's House directed by Dez Mccarthy, Victoria Wood Christmas Special, directed by Tony Dow for the BBC and the acclaimed Irish series The Tudors. Her recent theatre credits include The Good Body directed by Alexia Healy, The Dice House directed by Stephen Glover, and Olive Skin Blood Mouth at the Gaiety Theatre. 2016 saw Nika cast in the co-lead role of Danielle in the RTÉ series Can't Cope Won't Cope written by Stefanie Preissner and directed by Cathy Brady. She is also currently working on the development of Cathy Brady's next feature project Wildfire, with Nora-Jane Noone.
KATE: AMY HUBERMAN
Amy appears in the RTE comedy Can't Cope, Won't Cope and she is currently shooting the lead Tara in the RTE drama Striking Out.
Amy Huberman appeared on the big screen in the role of Ruth in The Stag (aka The Bachelor Weekend) for Treasure Entertainment. Her most recent TV appearances include Miss Tivnan in Chris O'Dowd's Moone Boy for Sky One, Mrs Batch in Houdini and Doyle(ITV) and Carol Mansfield in Silent Witness (BBC). On film she recently wrapped the female lead, Gabrielle, in Kill Ratio opposite Tom Hopper and a role in Handsome Devil directed by John Butler for Treasure Films, both due for release in 2016.
Amy played the female lead, Alice, in two series of Comedy Central (UK)'s comedy drama Threesome which attracted rave reviews and record viewing figures and for which she was nominated for a Glamour Award (2012) for Best Comedy Actress. Other television credits include comedy sketch show Your Bad Self directed by John Butler for Treasure Films/RTE, Channel 4's Comedy Lab, Animal Practice for NBC and Heading Out for BBC.
On Irish television Amy appeared in all seven seasons of _ The Clinic_ produced by Parallel Films for RTE and for which she was nominated as Best Supporting Actress at the Irish Television Awards in 2008, 2009 and 2010. She appeared in indie feature Rewind directed by P.J.Dillon for which she won the IFTA for Best Lead Actress Film in 2011, Three Wise Women produced by Parallel Films for Hallmark Channel (US), Chasing Leprechauns also for Hallmark Channel/Parallel Films and Stella Days opposite Martin Sheen, produced by Newgrange Pictures and directed by Thaddeus O'Sullivan and for which she was nominated for a Best Supporting Actress (Film) Award in the 2012 IFTA's.
TAXI GOOD: STEVE BLOUNT
Film and television credits include: cheaters, Can't Cope Won't Cope, Moone Boy, Titanic: Blood &Steel. Game of Thrones, The Race, 32A, Single Handed, Prosperity, The Clinic, Stolen Child, Stardust, Breakfast on Pluto, Fair City, Bachelors Walk, Glenroe, Agnes Browne, Mad about Mambo, Pips, Johnny loves Suzy and Though the Sky Falls.
Some theatre credits include; Ghosts, Monsters & Dinosaurs, Only an Apple, Savoy, Tarry Flynn (National Theatre, London), The Wild Duck, Judas of the Gallarus, She Stoops to Folly and The Pauper. (The Abbey Theatre). Hooked (Evil Little Genius, Irish Tour), Far Off Hills (Nomad Irish Tour), Swing (Intl.tour) and Tiny Plays for Ireland I & II (Fishamble: The New Play Company Kennedy centre Wa., & IAC in NY), The Seagull (Corn Exchange),Oedipus (Gaiety), A Whistle in the Dark (Lyric Theatre, Belfast), Melody (Tall Tales), The Sin Eaters (New Balance Dance), Accidental Death of an Anarchist (Blue Raincoat), One and Martin Assassin of his wife (Pan Pan), Dirty Dusting (Gaiety, Ireland & UK) Waiting for Lefty (65th Street Theatre, Seattle) and Blythe Spirit (The Theatre Factory, Texas).
LORCAN: LAURENCE O'FUARAIN
Laurence graduated The Programme For Screen Acting at The Factory Studios in Dublin, now known as Bow Street Academy. He was mentored by filmmakers Kirsten Sheridan, Lance Daly, John Carney and Shimmy Marcus.
Since graduating his TV credits include, Game of Thrones (HBO) Rebellion (RTE) and Red Rock (TV3). Film credits include Jim Sheridan's The Secret Scripture and Alan Mulligans debut feature Lead us Not which will see Laurence in the title role due for completion in Spring 2017.
LORRAINE: SHEILA MOYLETTE
Sheila Moylette is an actor based in Dublin. Previous film credits include the role of 'Angela' in the Jim Sheridan feature adaptation of Sebastian Barry's novel 'The Secret Scripture', joining the cast of Rooney Mara, Theo James, Vanessa Redgrave and Eric Bana. Previous television work includes 'Ripper Street' (BBC) and 'Hardy Bucks' (RTE).
Sheila's previous stage work includes 'Which Absurd Cat Are You?' (Theatre Lovett), Love Song (Smock Alley), 'Wish I Were Here' (Dublin Fringe), 'Sleep Skips My Heart' (ISDA Fringe), and 'Kitchen' (The Attic Studio/Origin), winner of the 'Big Green Apple' project award.
FERG: MUIRIS CROWLEY
Muiris most recently appeared in the role of Maurice Poplin in Druid Theatre Company's production of Big Maggie directed by Garry Hynes at the Gaiety Theatre. Further theatre credits include Oedipus, The Shadow of a Gunman, Twelfth Night all directed by Wayne Jordan with the Abbey Theatre, Sive directed by Conall Morrison, and The Dead directed by Joe Dowling, also with the Abbey, The ThreePenny Opera directed by Wayne Jordan at the Gate theatre, The Winter's Tale directed by Pat Kiernan for Corcadorca and The Yeats Project directed by George Heslin with the Irish Repertory Theatre, New York. Film and television appearances include the role of Tommy in Gerard Barrett's feature film debut Pilgrim Hill, the TV3 series Smalltown, also directed by Gerard Barrett and the popular series Vikings. In 2015 Muiris produced, wrote and directed the short film Change in the Weather, in which he also played the role of Michael. Change in the Weather won the Best of Kerry Award at the 16th Kerry Film Festival and received a Best Short Film nomination at the 2016 Irish Film and Television Awards. 2016 saw Muiris cast in the role Ferg in Stefanie Preissner's forthcoming series for RTÉ Can't Cope Won't Cope directed by Cathy Brady, and the role Take Hunter in the television pilot Dawn directed by Robert Stromberg.
WRITER: STEFANIE PREISSNER
At twenty-eight, writer and actor Stefanie Preissner, is blazing a trail as one of the most influential voices of her generation. Her latest project Can't Cope/Won't Cope, a six-part comedy-drama series, is due to hit RTE 2 screens this September.
Her one-woman theatre show, Solpadeine is My Boyfriend enjoyed sell-out runs in Dublin before touring internationally to Bucharest, Edinburgh and Australia and - as a radio play - it became RTE's most downloaded podcast.
Alongside her career as a screenwriter and playwright, she has been nominated for several awards as an actor. Stefanie graduated from University College Cork with a BA in Drama and Theatre Studies and Spanish. Her work has also been explored in a chapter of Radical Contemporary Theatre Practices by Women in Ireland, (Carysfort Press, 2015)
With support from the Irish Film Board, Stefanie's next project is a screenplay in development with Parallel Films UK (Brooklyn, The Clinic, Intermission).