Camelot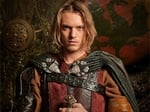 Season Short Summary
Camelot takes Thomas Malory's 15th century classic "Morte d'Arthur" and shapes the well-known Arthurian epic with modern emotions, conflicts and relevance. A visceral tale of fantastic adventure, intimate romance, and unnatural sorcery, Camelot brims with drama, character and action amidst breathtaking locations in Ireland. The episodes chronicle the beginnings of the Camelot legend with sweeping cinematic scope - one young man emerges as king, against all odds, to fulfill his destiny and unite a divided land.
Season Overview
We meet Arthur as a carefree 19-year-old, educated and bright, but still very much a boy in the lawless realm of Briton in the Dark Ages. Arthur's life and his world as he knows it changes forever with the arrival of a mysterious stranger bearing shocking news.
Merlin, however, is not a stranger to Arthur's parents, who remember him all too well, and feared the day of his return. Merlin's prescient notions have come to pass. The King is dead, and the land is on the brink of chaos, beset by vicious warlords jockeying for dominance through destruction. It is Arthur's time. Arthur, whom Merlin had hidden in obscurity from birth with a common family, has been chosen to unite the divided land.
But chosen by whom? Merlin delivers the message, but what are his intentions? From where does he receive his visions and powers? Whose interests does he have at heart? Arthur is pitched headlong into a world far more hostile than he could have imagined, and Merlin's role - and the fallibility of his visions - are each unclear. Part sorcerer, part warrior, Merlin seems intent on building Arthur into a great leader, if he doesn't destroy him first.
Arthur's introduction to kingship is a rude awakening. Contrary to the opulence of castles of monarchs of later times, the land of King Arthur is a brutal one. The line between warlord and king is a blurred, and the young king faces challengers hardened by far greater experience than he. His castle, Camelot, is near ruin - once a great stronghold that Merlin believes can again become the nexus of a great kingdom. In the midst of such personal adversity, will Arthur come to believe that Camelot is a sleeping giant, and that he has the power to awaken it?
Chief among those keen to destroy Arthur is his own half-sister, Morgan. Cunning and calculating to the darkest ends, Morgan is intent on taking Arthur's crown - what she believes is her crown. At first with force, and later with insidious machination, Morgan is the central antagonist to Arthur's plight.
And yet, despite Morgan's cruelest intentions, Arthur's most dangerous relationship is the clandestine one he shares with the breathtaking lady Guinevere, the wife of his most loyal champion.
Episodes
Episode One
"Briton,The Dark Ages, A Land in Turmoil"
When Uther, king of England dies, Merlin sets Uther's only male heir Arthur as the rightful king. However, challenging Arthur's claim is Uther's daughter, Morgan.
Episode Two
"The Sword And The Crown"
Arthur finds the perfect mate in a young woman named Guinevere. Meanwhile, as Merlin tries to connect Arthur with Excalibur, Morgan and new ally King Lot plot to usurp the throne.
Episode Three
"Guinevere"
Arthur and Guinevere struggle with their relationship as she readies for her marriage to Leontes.
Episode Four
"Lady Of The Lake"
Merlin continues to forge the legend of Excalibur as Arthur battles Leontes for Guinevere's attentions.
Episode Five
"Justice"
Arthur creates Camelot's first tribunal of justice which is created through battle of wills. Morgan is helped by Sybil to reach out to the people of the town on her quest to take back the throne.
Episode Six
"Three Journeys"
Camelot's knights must defend the castle from dangers found beyond the borders. Guinevere travels alone to meet her father, and Arthur follows secretly.
Episode Seven
"The Long Night"
Morgan unleashes a plan to test, trick and infiltrate King Arthur's court by inviting them all to stay a night at Castle Pendragon.
Episode Eight
"Igraine"
A disguised Morgan infiltrates the castle and tries to sow seeds of distrust among the men. Meanwhile Igraine tries to escape Castle Pendragon.
Episode Nine
"The Battle of Bardon Pass"
Bardon Pass is attacked and Arthur and his men rush to protect it. Merlin discovers Morgan has been in the castle all this time.
Episode Ten
"Reckoning"
The battle of Bardon Pass continues as Arthur tries to defend it alone. Meanwhile Morgan continues with her plan to take the throne while Arthur is away.