Callan Kicks the Year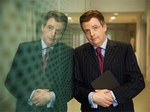 Callan Kicks the Year returns for its second Christmas special outing with Dobbo at the helm of an acerbic and funny look at Ireland and the world in 2014.
The show will feature real clips of the top political, sporting, celebrity and TV moments of the year. Callan's Kicks best loved characters are on hand to skewer Enda Kenny's year of scandal and controversies from cronyism and Irish Water. The ice bucket challenge, celebrity weddings, Bono's year, Love/Hate and Scottish independence are all fearlessly satirised in this festive romp.
Marty Morrissey's New Year Party looks back at all the GAA, rugby, golf and football moments, while Michael D reflects on his British State visit.
New characters Shane McGowan, Imelda May and Ireland's only actors The Gleesons look back at the entertainment high points of the year.
Narrated by Dobbo - who passes the baton to Marty for sport, the show features all our favourite characters from Callan's Kicks - Enda Kenny, BOD and Amy, Joan Burton, Marty Morrissey, Bono, Michael D, Ray D'arcy, Mary Lou McDonald and others. Barack Obama and Vladimir Putin even drop in (in puppet form) to talk about the two very different years they've had, and to laugh at Irish travesties from GSOC to cronyism.
Callan's Kicks made its first, successful jump to television with a Christmas/New Year special in 2013. This second festive edition keeps the tradition going, celebrating the many characters from the TV and radio series, and adding some new ones, all in the name of kicking the year.
Callan Kicks The Year will air on Tuesday, 30th December at 9.30pm