Bulletin TV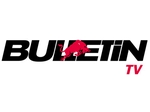 Bulletin TV is back and will be bursting onto your screens every Thursday at 8pm on RTÉ Two. The adrenaline-rammed 6 part series brings the world of Red Bulletin Magazine to life and features the best of alternative sports action from around the world.
The ever popular Aidan Power and Daniella Moyles guide viewers around the pulsating world of high octane events meeting some of the world's brightest stars and biggest risk takers along the way.
Aidan and Daniella also delve deep behind the garage door to meet some of Ireland's brightest music talent such as The Kanyu Tree, The Minutes & Royseven.
Bulletin TV will bring you through the USA, Australia and Austria as well as travelling the length and breadth of Ireland to experience firsthand events such as Red Bull X-Fighters, Cliff Diving & BBoy meets Ceili that sees a group of world class BBoys take on Irish dancers in the ultimate dance-off.

So once more, sit back, belt up and enjoy the world of extreme sports and culture with Bulletin TV. It promises to be an unforgettable ride.

Bulletin TV is a fully funded television series produced by COCO Television for Red Bull Media House GmbH
RTÉ Two, Thursday, 8.00pm
Visit the website