Brendan Bracken - Churchill's Irishman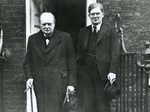 Brendan Bracken was Winston Churchill's right-hand man for over 30 years, and was a man of mystery to those who knew him. Where did he come from? Was he the Australian orphan he claimed to be? Would Churchill have trusted him had he known Bracken's real background?
This documentary traces Bracken's life from his birth to GAA founding father JK Bracken, to the astonishing heights as Minister of Information during the Second World War, where he was responsible for both Information and Propaganda. Aside from this he was a successful businessman, is regarded as the founder of modern financial journalism - being the Chairman of the Financial Times - Member of Parliament, the base character of George Orwell's 1984 - Bracken was thus the original Big Brother.
On his death in 1958 he ordered all his papers burned and his money went to Churchill College, Cambridge to support the memory of the man he loved and served for so long.
This documentary uses archive, reconstruction interviews with those that knew him, and locations in four countries to tell the story. Hosted by Adrian Bracken - a distant relative - and narrated by Sile Seoige, this fascinating story comes to television for the first time.
RTÉ One, Tuesday 21 December, 10.15pm