Boom! Boom! - The Explosion of Irish Comedy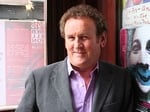 Not so long ago, Irish comedy meant Paddy jokes and old codgers dressed as leprechauns. Then something happened. Maybe it was the Celtic Tiger. Or maybe it was boredom. Whatever it was, Irish comedy exploded in the nineties, and now comedy writers and comedians from Ireland rank amongst the very best in the English-speaking world.
How did this transformation come about?
Who were the funny men and women who found Ireland's new voice? And what the hell were they on about?
Combining rare and priceless performances from the archives with contemporary interviews with the comedians themselves, the series is an opportunity to laugh again at the jokes and stories that defined a generation.
Presenter: Colm Meaney
Born in Dublin, Ireland, Colm Meaney, is perhaps best known for his role as Chief Operating Officer Miles O'Brien on the television series, "Star Trek: Deep Space Nine" and "Star Trek: The Next Generation."
Meaney's most recent films include Kings, which was Irelands 2008 official Academy Award entry, and was nominated as best actor for an Irish Film Award for his performance. He recently finished the film 3 And Out with Mackenzie Crook, and is awaiting the release of "Five Fingers" starring opposite Lawrence Fishburn and Ryan Phillipe.
His feature film debut was in John Huston's "The Dead" (1987), but it was his performance in director, Alan Parker's "The Commitments" that gained him wider recognition with North American audiences. He also starred in the other two films in the highly acclaimed Roddy Doyle Barrytown trilogy, "The Snapper" (for which he received a best actor Golden Globe nomination) and "The Van," both directed by Steven Frears. He starred in two other Parker films as well, "Come See The Paradise" and "The Road To Wellville."
Meaney has successfully bridged the gap of starring in large studio films such as "Con Air," "Mystery, Alaska," "Under Siege" and "Far and Away," to highly acclaimed independent films such as "Layer Cake", "Intermission" "The Boy and Girl From County Clare" "This Is My Father," "The Englishman That Went Up A Hill, But Came Down A Mountain," "Claire Dolan," "Four Days," "Into The West," and "Monument Avenue". Meaney won best actor at the Newport Beach Film Festival for the indie film "How Harry Became A Tree", a film that he was nominated for best actor at the Irish Film Awards, as well.
On television, he was seen on the recent mini-series, "Covert One: The Hades Factor", and others such as "Scarlett" and "Random Passage", and the TNT film "Boss Lear" opposite Patrick Stewart. He was recently seen on Law and Order: Criminal Intent, and a David Mamet written and directed episode of the The Unit. He is awaiting the television premiere of the Canadian miniseries he stars in, ZOS: Zone of Separation.
Meaney left school in Dublin at the age of 17 to apprentice as a fisherman, but his love of acting led him to enroll in drama classes at The Abbey, Dublin's National Theater. He first came to the United States in 1982 to work in New York and later made his Broadway debut in "Breaking The Code," opposite Derek Jacobi. He then moved to Los Angeles in 1987.
Meaney recently returned to the stage to star with Kevin Spacey in the highly acclaimed production of Moon For The Misbegotten at London's Old Vic and on Broadway. Other recent stage work include "The Cider House Rules" (for which he won an Obie Award) at New York's Atlantic Theater, and "Juno And The Paycock" at London's Donmar Theater.
Mr. Meaney resides in Mallorca, Spain and Los Angeles.