Body Shopping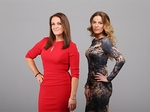 Body Shopping, episode 1 of 3, RTÉ2, Thursday, April 27th at 9.30pm
We live in a disposable society. In our selfie and celebrity obsessed world, it's tempting to view our bodies this way. Want bigger breasts? You can have that. Tired of your nose? Get a new one. For most surgeries you'd have to go to a GP to discuss the risks but not for this. For those considering a bit of body shopping it can be a very daunting prospect. So, if you are thinking of going under the knife what questions should you ask? How do you get the right answers? And will it make you happier?
Dr Ciara Kelly is fascinated by the idea that more and more of us are choosing to change our appearance surgically. In this series she meets some people who are taking their first steps on that path, exploring why they're doing it, how they're doing it and if, in the end, it makes them any happier?
Body Shopping explores a variety of procedures from a popular new alternative to breast implants to the art of body sculpting and a time efficient one-stitch facelift. For men, Body Shopping looks at male breast reduction and how hair transplants are becoming more acceptable. Ciara journeys abroad to look at the reasons an increasing number of patients choose to travel for a wide range of aesthetic surgeries.
The programme features people from many backgrounds with a variety of hang-ups about their appearance, highlighting the cost of their procedures, what pain they went through and just how long it took them to recover.
In an image-conscious world, there's pressure on all of us to look our best - but just how many of us would go Body Shopping?
In episode one, Panoraia Papouli choses a popular new alternative to breast implants. Orla Flynn joins an increasing number of patients who travel abroad for the aesthetic surgery, with her rhinoplasty. And we follow Ger Newman as he avoids the horror of the combover by opting to do something about it with his hair transplant.