Bloom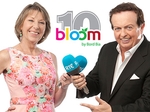 Bloom Live in the Afternoon 5.10 - 5.40pm
Aine Lawlor and Marty Morrissey present the first of three live shows, capturing all the excitement from the first day of Bloom. We take a look at this year's wonderful show gardens with a difference, from Slupture in the Parkland to the Tao of Now mindfulness garden. Three first-timer designers share their experience of showing case their first show garden at Bloom and we catch up with 2015 Supergarden winner Brian Burke, who is back and aiming for gold with his new Goal Syria Garden. Judge Andrew Wilson will be on hand to provide an insight to how those coveted Gold Medals are awarded and we'll be providing top tips on what visitors should be bringing home to their own gardens from this year's Bloom.

Super Garden Live from Bloom 7pm - 7.30pm

Aine and Marty present the final of Super Garden, when after much deliberation, the judges reveal this year's winning designer and we see their show garden recreated at Bloom. But will the viewers agree with the judges decision? They can get in on the action by voting for their favourite garden of the series with our Viewers' Choice Award.

http://www.rte.ie/tv/supergarden/


Bloom Live 8.30pm - 9pm

We rejoin Aine Lawlor and Marty Morrissey to celebrate the opening day of this special 10th anniversary of Bloom, with flavours from the Food Village, music from the brand new You Bloom stage and, of course, an insight to this year's incredible show gardens. We meet the Bloom veterans and some budding young designers, all hoping to impress. This year's Bloom medallists are revealed and we announce the winner of the 2016 Super Garden Viewers' Choice Award.
RTÉ at Bloom 2016
Join us at the RTÉ set for a host of activity for all ages including live TV and radio broadcasts, children's entertainment, panel events, music on the grass and more!
Highlights include live radio broadcasts on RTÉ Radio 1 and RTÉ lyric fm. The RTÉ Weather team will present live bulletins and both the Super Garden finale and Bloom Live, presented by Aine Lawlor and Marty Morrissey, will broadcast on RTÉ One.
The RTÉ lyric fm Quartet will provide the perfect summer backdrop, serenading visitors throughout the weekend and RTÉjr presenters will be on hand to entertain the little ones! There will also be plenty of handy tips from garden, weather and lifestyle experts at the panel discussions.
Keep up to date with @rte on Twitter and RTÉ on Facebook and Instagram.
**********************
Schedule of live radio broadcasts from Bloom
Thursday 2 June
- TX 10.00am - 12.00: Marty in the Morning on RTÉ lyric fm
Friday 3 June
- TX 10.00am - 12.00: Liz Nolan's Lyric Notes with Evelyn Grant on RTÉ lyric fm
Saturday 4 June
- 8am - 9am: Countrywide on RTÉ Radio 1
- 10.00am - 1.00pm:The Hamilton Scores on RTÉ lyric fm
Sunday 5 June
- 10.00am - 1.00pm: The Hamilton Scores on RTÉ lyric fm