Bloom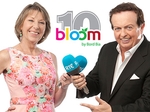 Bloom Live in the Afternoon 5.10 - 5.40pm
Aine Lawlor and Marty Morrissey are back in Phoenix Park to present the first of three live shows from opening day at Bloom, Ireland's largest gardening, food and family event. Aine and Marty will meet with the designers responsible for creating 2017's stunning show gardens and take an in depth look into this year's biggest floral trends.
Super Garden Live from Bloom 7pm - 7.30pm

Aine and Marty present the final of Super Garden, when after much deliberation, the judges reveal this year's winning designer and their show garden is recreated at Bloom. Will it be Ashling Harrison's Hygge garden, Des Kingston's Rustica Hibernia design, Callum's Bamboombox party garden, Martin Greenwood's Over the Rainbow creation or Maddie Dineen's Sanctuary? Viewers at home can have their say too by voting for their favourite garden of the series with our Viewer's Choice Award.
http://www.rte.ie/tv/supergarden/


Bloom Live 8.30pm - 9pm

Aine Lawlor and Marty Morrissey return at 8.30pm with a behind the scenes special from Bloom 2017. Highlights will include the awarding of medals, a flavour of the Food Village, a special report from two junior reporters as 'kids go free' and of course, an insight into the wonderful show gardens that have been created over just four weeks in Phoenix Park. Marty and Aine are on hand to capture the energy and excitement that attracted almost 115,000 to the event last year and will unveil the winner of the Super Garden Viewer's Choice Award at the end of the show.