Births of the Nation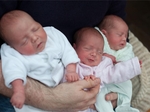 Ireland has the highest birth rate in the EU with 200 babies born here every day. Births of the Nation, a special observational documentary tells the story of the lead up to, and arrival of seven babies in 2012.
The documentary follows five expectant mothers in the final weeks of their pregnancy and observes how the women, their partners, families and friends prepare for the new arrivals. One of the couples is expecting their first child, another is getting ready for the fifth addition to the family. Ranging in ages from late 30s to just 18-years-of-age, each story illustrates a different side of birth and pregnancy in Ireland.
Facts about Ireland's baby boom
. The number of babies born in 2011 sees a 29% increase on the births in 2001
. There have been 365,000 births in Ireland since 2006
. Teenage births in Ireland have decreased by 35% since 2001. Only 3% of all births are now to mothers under 19-years-of-age.
. Almost 24% of births in 2009 were to mothers born outside Ireland
. At an average of 31.5-years-old, Irish mothers are the oldest in the EU.
. The average age of first time mothers has increased from 25-years-old in 1980 to 29-years-old in 2010.
. The First IVF cycle was carried out in 1985.The time when the first IVF baby was born was never published but, would have been in 1986/87.
. There were 74,648 births registered in Ireland in 2011.
Participants:
Midlands based Louise Cojocaru became pregnant with her first baby at 16. Within a few months of her son's birth she became pregnant again. Surviving on the lone parent allowance we follow her story as she copes with an 11-month-old active toddler while nine-months-pregnant.
Dublin based Mim Moran and husband Patrick are no strangers to pregnancy and birth, with a family of four children and one on the way. They also are experienced when it comes to home birth, making it a family affair by using Mim's mothers house for the births.
Grainne Coleman Dunne and husband Rory from Dublin had always planned to have another child after daughter Mia was born 17-months-ago. However, when Grainne became pregnant again they were told the startling news they were expecting triplets. With no history of multiple births in either family, the couple are trying to get their heads around the fact their family will double overnight.
Cathy and John Burke's first two children were born at home. Expecting their third child in April 2012, they once again plan a home birth in Tuam, Co. Galway.
Co. Meath based couple Susanne and Adrian Brodigan thought having a baby would be straight forward when they married in 2007. However they lost three babies to ectopic pregnancies but became pregnant again through IVF. Pregnant at long last with their first child we follow them through mixed emotions as they try to mentally and physically prepare for the arrival of their longed for baby.
RTÉ One, Monday 30 April 2012 9.35pm