Beyond Belief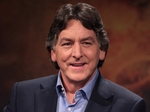 BEYOND BELIEF returns to RTÉ One with a new series of six Monday night programmes beginning on 23 September at 11.15pm.
In this series, Mick Peelo and a panel of experts discuss the stories that matter to you from a moral, ethical and religious perspective. The programmes attempt to create a healthy debate and dialogue between the different voices in society that are concerned about the future shape and direction of the country.
Programme 1 explores the issue of Conscience and the Law and asks: What exactly is conscience and what is its role in public life?
Future programmes will examine issues as diverse as Forgiveness, the Angelus, Islam, the Media and what life and death actually mean.
They will be well-informed, energetic and reflective discussions about who we are and what kind of a society we want for the future.
Each of the six programme will be 45 minutes in duration, giving ample time to debate the issues in a fair and balanced atmosphere with well-known and not so familiar contributors.
Presenter: Mick Peelo
Producer: Seán Ó Méalóid