Betrayal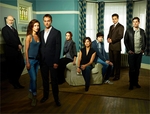 Two lovers' worlds will collide, culminating in a powerful and compelling story of sex, love, loyalty, marriage and treachery in the provocative, sensual and gripping new drama. Starring Stuart Townsend
Two lovers' worlds will collide, culminating in a powerful and compelling story of sex, love, loyalty, marriage and treachery in the provocative, sensual and gripping new drama.

In the premiere episode, "Pilot," a chance meeting between Sara Hanley (Hannah Ware), a professional photographer, and Jack McAllister (Stuart Townsend), a top attorney, leads to an instant and undeniable attraction. Sara's husband, Drew Stafford (Chris Johnson), is a successful prosecutor with political aspirations, and the couple has a seven-year-old, Oliver. Unbeknownst to Sara, Jack is in-house counsel to a powerful but somewhat shady entrepreneur, Thatcher Karsten (James Cromwell), and is married to Thatcher's daughter, Elaine (Wendy Moniz). Sara and Jack both realize something is missing in their marriages, and fight against the realization that they've met their soul mates in one another.

As Sara and Jack struggle with their feelings and their guilt about their families, Thatcher's brother-in-law, Lou, is murdered, and all evidence points to Thatcher's mentally challenged son, T.J. (Henry Thomas). Sara discovers she's in the middle of a nightmare when she learns that Drew will be the prosecuting attorney in this high-profile murder case, which can secure his political future, and that Jack will be the lawyer for the defense. The lovers find themselves in an impossible situation - on opposite sides of a murder investigation.

Cast
Hannah Ware as Sara Hanley
Henry Thomas as T.J. Karsten
Chris Johnson as Drew Stafford
Wendy Moniz as Elaine McAllister
Elizabeth McLaughlin as Valerie McAllister
Braeden Lemasters as Victor McAllister
Stuart Townsend as Jack McAllister
James Cromwell as Thatcher Karsten.
Guest Cast
James Keane as Lou Mrozek
Helena Mattsson as Brandy
Merrin Dungey as Alissa Barnes
Carmen Roman as Constance Mrozek

RTÉ Two, Tuesday, 10.00pm