Roy Keane and Patrick Vieira: Best Of Enemies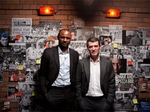 Roy Keane and Patrick Vieira hated each other.
Keane described himself as being "in a war with Vieira".
Their infamous tunnel bust up in February 2005 has entered folklore. On the pitch they fought, off the pitch they tried to fight.
But most fans would agree that Roy Keane and Patrick Vieira were the two footballing warriors that defined their age. Already, less than a decade on, the football public pine for the days when Manchester United and Arsenal, led by their fearless captains, went to war.
Now, Keane and Vieira are back together, side by side, but back in opposition.
In this film the two men explain why they hated each other, what they really thought of Sir Alex Ferguson and Arsene Wenger, and what it means to be Best of Enemies.
We also hear from Roy Keane on what he wishes he'd said to Mick McCarthy in Saipan.
RTÉ Two, Wednesday, 9.55pm