Baz: The Lost Muslim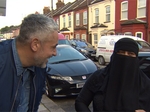 Recent Emmy Award and IFTA winner Baz Ashmawy presents this timely, compelling and entertaining 2-part personal journey into Islam - the faith of his late Egyptian father, into which he, himself, was born, but which he has never really understood. until now.
Even before the recent atrocities in Sinai, Beirut and Paris, Baz Ashmawy realised that to immerse himself in Islam wasn't an obvious move, given this year's horrific events in the Charlie Hebdo offices and in Tunisia, Syria and Iraq. Even so, in the autumn of 2015, he decided that it was time to get to know the faith of his late father.
Perhaps it was the fact that Baz turned 40 this summer. Perhaps it was because he was finding himself increasingly unable to answer the questions of his six children about matters of religion and identity. Or perhaps, as his partner, Tanya, and his mother, Nancy, suggest, Baz is missing something: he feels a deep-seated need to believe in something and to belong. Whatever the spur, Baz needs to work out who he is, and who he wants to be. He's sure that that journey has to involve getting to grips with Islam.
In this 2-part series, he embarks on a personal journey of discovery, hoping to re-embrace his Egyptian heritage and to understand properly for the first time the culture and beliefs of the Muslim faith into which he was born, but which he hasn't practised since childhood.
Of course, when he started the project, Baz could have had no idea, how that journey would be given a much greater urgency and poignancy by the recent atrocities in Sinai, Beirut and Paris. For some, those events have awakened hostility and fear of Islam, but for Baz, that extreme religion, whose followers seem to believe they have a sacred right to massacre innocent people, is not the Islam he remembers - an enlightened faith, rooted in peace. So, has Islam, itself, been hijacked? For Baz, there's only really one way to find out.
He wants to find out for himself about Islam, through meetings, prayers, meals, discussions and interviews with Muslims of all ages, living and working in Ireland and beyond. To them, Baz is much more than a journalist or presenter. He's a Lost Muslim, returning to the faith of his father. He needs to be welcomed, taught and encouraged. But Islam is no spectator sport. You don't learn about it by reading a book or website. You live it and, from the beginning, Baz shows himself willing to do just that.