Baz's Extreme Worlds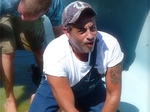 In the second series Baz again throws himself into very different and extreme worlds here and abroad.
He travels to a remote farm in Southern Colorado, which is home to over 350 alligators. He is expected to wrestle alligators while working on the farm so must overcome his fears over the course of the week.
Back home he is on a quest to find out more about the weird world of those dedicated to Body Building. On the run up to the Bodybuilding Ireland championships he gets to know two of the competitors and gets an insight into how they live their lives.
He also faces one of his biggest challenges yet and travels to one of the most remote places on earth -the plains of South Western Ethiopia to experience life living with one of the world's most feared tribes, the Suri.
Then, back on Irish soil, Baz undertakes one of the toughest and dirtiest jobs and becomes a pest exterminator, coming face to face with some domestic situations he was not, in any way, prepared for.
Episodes
Episode One
Baz travels to Mosca, a small farming town in Southern Colorado, where he trains as a farmhand on a very unusual farm. This farm looks after 350 alligators, countless reptiles, emus and wild horses.
Living in a rundown RV, Baz must work alongside Jay Young, hard taskmaster and owner, and overcome his fear of these deadly predators.
As well as learning the ropes Baz must also learn how to wrestle the largest alligator on the farm, who is 10 feet long, by the end of the week. Will he be able to do it or will he bottle it?
Episode Two
Bodybuilding is a sport that takes extreme mental and physical dedication and is an extremely tough lifestyle choice for those involved. In this programme Baz meets Niall Kinsella and Aly Dowling, two dedicated bodybuilders, and journeys with them in the weeks leading up to Ireland's biggest bodybuilding competition.
As Baz watches their body shape and psyche change dramatically he is desperate to find out what drives these people and why? And will they achieve their dream?
Episode Three
In probably his biggest challenge yet Baz travels to one of the most remote places on earth the South Western plains of Ethiopia.
This area is home to the Suri tribe one of the fiercest indigenous tribes in the world. Lip plates, stick fighting and living off the land are the norm and Baz spends a few days getting to know and living with the tribe. Among his challenges is drinking cow's blood.
Episode Four
Everyone has heard the fact that there is a rat within six feet of you at any one time. Determined to overcome his lifelong fear of rats, Baz goes on the road with some of Ireland's top pest exterminators.
As he learns the ropes in the job, he is offered the challenge of helping out at the country's most rat-infested house. Will he overcome his phobia in order to take on this extreme challenge?