TV50: Battle Station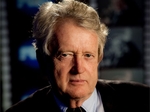 Battle Station is a two-part series tracing how RTÉ Television's relationships with Government, the Catholic Church, the Irish Language Movement and other political and cultural forces were defined through a series of battles over controversial issues in the first half-century of Irish TV. The series is written and presented by John Bowman who has seen many of these battles at first hand.
Part One outlines the impact that the arrival of television had on the Catholic Church, the Irish Language Movement and traditionalists generally and the part TV played in the clashes between liberalism and conservatism in the Ireland of the 60s, 70s, 80s and 90s. It focuses particularly on the tension between the need to win large audiences and the obligation to fulfil a public service and the role that this played in RTÉ Television's approach to these issues.
Part Two focuses on the many battles between RTÉ Television and politicians and traces how, through a series of memorable clashes, Irish television staked out its independence from Government. It shows how the relationship between RTÉ Television and Ministers changed in the first three decades and how that relationship is played out in today's controversies.
John Bowman is the author of 'Window and Mirror: RTÉ Television, 1961-2011', published by The Collins Press.