Baby on Board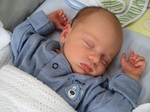 Baby On Board is an 8-part primetime series for RTÉ aimed at anyone who is about to have a child, has recently had one or, indeed, has ever had one! Over the next 8 weeks experienced midwife a parenting coach helps parents with birthing or early parenting issues and, in a wider context, explores how the arrival of a baby and emerging childhood transforms the family dynamic forever.
Baby On Board aims to help parents with information and practical advice on having and raising their new baby, making it unmissable viewing for new and expectant parents. If that's you, this programme aims to answer the questions you didn't even know you needed to ask.
Each week the parenting coach helps different families around the country in different situations and with a variety of challenges, including having your first baby, premature birth, second families, crèches, breastfeeding, single parenting, starting a business from home, sibling jealousy, disciplining a child, baby-proofing your home, your child's diet, stimulating your child, isolation for new mothers, getting your child to sleep in his/her own bed and sleeping through the night.
Series producer Billy McGrath said, "Having a baby is a wonderful and joyful experience for both mother and father, but also a daunting one - as there is really no training for the most important job in the world. Baby On Board is a positive series aimed at sharing the birthing and early parenting process with as many parents in Ireland as possible and this very human series show viewers - in a practical and entertaining way - that baby and toddler issues are the same ones experienced by families and parents across the country".
Baby On Board is a Sideline Production for RTÉ.