Awesome Autumn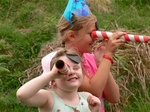 As the days get shorter, the nights get longer, and the hour falls back RTÉjr celebrates.. AWESOME AUTUMN a season of special programmes all about life in the outdoors. For 12 days RTÉjr. urges youngsters to get outdoors in a host of new programmes and old favourites.
Brand NEW series include:
BUG HUNTERS, TX RTÉjr. Monday - Friday @ 11.30 & 16.05 Saturday and Sunday 11.30,11.55 &16.05 (15 x 5')
Michel Dugon - the human encyclopaedia of insects - teams up with a trio of young 'Bug Hunters' in search of the biggest and scariest bugs they can find. From woodlands to boglands, ponds to seashores, mountains to parks, and even houses - yes, we must not forget that our own homes are full of creepy-crawlies to be discovered! Beetles, spiders, millipedes, butterflies, dragonflies, bees.you never know WHAT they'll find. but one thing's for sure, The Bug Hunters will leave no stone unturned on their journey, no matter what beasties lie beneath!
STORYBIKE, TX RTÉjr. Monday - Friday @9.50 & 14.20 ( 10 x 6')
'Storybike' features stories and local legends from around the country. Each episode sees our cycling heroine, laden down with baskets of crayons, paints, glitter and colourful paper, arriving in a village to tell her story to a gathered group of children. The children then set about drawing and making pictures to illustrate the story and re-tell the tale in their own words and pictures.
RETURNING Series include:
FOREST FORCE, (series 2) TX RTÉjr. Monday - Friday @ 18.30 (11 x 6')
'Forest Force' is an entertainment adventure series set in the forest and featuring a team of children as they learn new forest skills. The children will build fairy houses in the trees, giant birds' nests; make their own natural paints, track summer animals and wildlife and much much more. 'Forest Force' is about having fun in the forest with a valuable message about the importance of our natural environment and the potential for having fun in it with family and friends.
NEVERBORED, (series 2) TX RTÉjr. Monday - Sunday @ 11.45 & 16.20 (15 x 5')
The fantastically fun Reuben Evans comes to the rescue of children who are stuck in a boring situations. In this series we see children arriving at a stadium on the wrong day for a match, stuck on a farm with little to do and bored during lunchtime at a school. Reuben challenges them to create zany ideas and come up with unique games with only what they can find around them.
KIDSPEAK, (series 8 ) TX RTÉjr. Monday - Sunday throughout the day (175 x 30'')
Back for its 8th year, 'Kidspeak' is a series of 175 x 30 second films which give a chance to youngsters to show RTÉ viewers what they like to do. From abseiling to zoology, craftwork to music this seasons stories come from the south and east coasts of Ireland. Keep your eyes on RTÉjr. for a chance to see these short films.
ALSO our regular programmes are celebrating too:
SPRAOI, ( series 2) TX RTÉjr. Monday - Friday @ 9.00 & 13.35 (45×5')
Muireann is visited by her friend Ollí the Owl and all of Ollí's friends such as Sid the Spider and Pecky the Woodpecker. Especially for Awesome Autumn they will be learning about leaves changing colour and feeding the birds.
TELL ME A STORY, ( series 3) TX RTÉjr. Monday - Sunday @12.30 (42 x 4')
A whole new season of stories in Irish and English from writers including Dee Roycroft , Emma Nolan and David Maybury, and read by Bryan Dobson, Clare MacNamara, Brendan O'Connor, and Gráinne Seoige amongst others.. Available on RTÉjr, RTÉjr Radio, Online and on the APP
STORYTIME, (series 2) TX RTÉjr. Saturdays and Sundays @ 12.00 (36 x 5')
Sit back and join Emma and Muireann as they share their fantastical stories of 'Scardy Cat Scarecrow' and 'An Autumn Tale' plus many more.the fun awaits!! Available on RTÉjr, RTÉjr Radio, Online and on the APP
It's time to pull on your wellies, and pop on your hat and head into the wild outdoors
Keep up with RTÉjr online, on radio and on the App.
21st October - 1st November