Autism And Me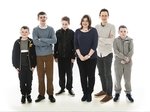 Autism And Me, RTÉ One, Monday, March 13th at 9.35pm
Autism And Me is a revealing observational documentary that explores the autism spectrum through the experiences of a number of Irish children, teenagers and young adults.
We hear directly from a range of diverse and engaging participants about what living with autism is like and about how they feel they are perceived by the rest of the world. Through a series of personal testimonies, we are afforded a rare opportunity to see life from the perspectives of those living with autism.
Amongst the participants is autism advocate, Adam Harris (22), who has Asperger's Syndrome. Drawing on his own experiences, Adam has set up
AsIAm, an organisation that supports people with autism and educates the public about the condition.
Fiacre Ryan (16) is non-verbal. Since his parents discovered an experimental method of communication called RPM in 2013, Fiacre has at last found a way to express his thoughts and feelings. His revelations continue to astonish his family and school.
Niamh Biddulph (19)strives each day to become an independent adult and dreams of going to college and having a family. Most of all, she wants to be accepted for who she is and not for the condition she has.
Hughie Malone (11) wonders what all the fuss is about? Why is society obsessed with the words like "disorder" and "normal"?.
Twins Dylan and Lee Burke (11) are both on the spectrum. Their parents are looking to the future and wonder how life will treat them in adulthood.
Further information on autism
1 in 65 school children in Ireland have been diagnosed with autism
(National Council for Special Education July 2016)
Approximately 1% of the world's population may be autistic and face an unemployment or underemployment rate of up to 80%. (Specialisterne Foundation, Thorkil Sonne)