At Your Service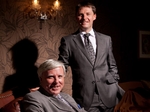 Brand new series of the popular Sunday evening show featuring hotel experts Francis and John Brennan, owners of the 5 star Park Hotel Kenmare.
Can the Brennans inject their recipe for success into other businesses across the country?
In this series the Brennans face brand new and unusual challenges, such as helping a remote and struggling Country Park that faces closure unless it can attract more visitors, tackling a little-known eco-village that needs to put itself on the tourist trail and getting involved in retail as they attempt to transform the fortunes of a Farm Shop in Wicklow.
The Brennans face some of their biggest challenges, biggest projects and biggest budgets, such as when they're called in to revive a 150-room hotel that's been bought out of receivership. There's an array of unusual properties, such as the creaky 15th century Oranmore Castle on Galway Bay and the historic Beaulieu House in Drogheda. And, of course, there's a great mix of strong characters, engaging stories and stylish transformations.

Episodes - Series 6
Programme One - BREATHNACH'S, COACHFORD, CO. CORK
BRINGING A FAMILY BUSINESS BACK TO LIFE
Mary Cronin is the 6th generation to run Breathnach's in Coachford and though times are tough she needs to make the business a success or it's not going to survive for the next generation of her family. Ably assisted by her sprightly mother, she's currently operating a supermarket, pub and café. She's called in the Brennans to look at the defunct 10-room hotel in the upper floors of her building. The Brennans quickly realise that the Cronins need a brand new business model if they are to survive - and it's not what the Cronins are expecting.
Programme Two - Beaulieu House in Drogheda
In tonight's show Francis and John Brennan are called in to help restore the fortunes of a historic country pile, Beaulieu House in Drogheda. Cara Konig's mother died recently and she has taken on the role of running Beaulieu House, but it's hugely costly and not making any money. Cara's hoping to open three B&B rooms and Francis will be her very first guest. However, it doesn't take long for the Brennans to figure out that the big money will not to be made from a few rooms, but from using the whole house for weddings and events.
Programme Three - Country Park
It's a first for hotel experts John and Francis Brennan when they come to the rescue of a Country Park. There are three things you need in business; location, location, location - and Millstreet doesn't have any of them. The park has a remote situation on a mountainside and it's well off the beaten track when it comes to attracting visitors. But it's essential the Brennans find a solution to the park's woes - it faces imminent closure if it cannot improve the number of people coming through its gates. The pressure is on.
Programme Four - Oranmore Castle, County Galway
CAN THE BRENNANS PUT A CASTLE BACK ON THE MAP?
Leonie Finn owns a castle - Oranmore Castle in County Galway. She's an artist following a dream that started when her mother took ownership over 50 years ago. Leonie wants to make the castle sustainable for future generations but at the moment it's not making a penny. It's got a handful of bedrooms that Leonie's considering letting out as B&B accommodation. But given their very poor condition the Brennans immediately realise there's no chance they can be rented out. However, they believe there is a market for visitors to an authentic Irish castle and that there's money to be made from the cottage in the grounds. But the Brennan's biggest challenge is knocking some commercial nous into artist Leonie.
Programme Five - Tinahely Farm Shop, Co Wicklow
Another first for the Brennan brothers. The business challenges for John and Francis continue when they are asked to help a struggling Farm Shop in Tinahely, Co Wicklow. The Farm Shop has been open for two years but is failing to earn enough income to support Philip and Rebecca Hadden and their three young children. To make matters worse, they have an array of farm animals which are eating all their profits! John and Francis want the Haddens to double their turnover and they come up with some novel ideas, including opening the first indoor beach in Wicklow!
Programme Six - Django's Hostel and Cloughjordan Eco Village, Co. Tipperary
This week it's another first for John and Francis Brennan as they're called in to help improve visitor numbers at Cloughjordan Eco-Village and to ensure the future success of Django's, the village hostel. The eco-village wants to put itself on the eco-tourism map of Ireland and attract more people to its courses, but the Brennans are worried that no one knows the eco-village exists. The 40-bed hostel is struggling to survive and has to improve business or could face closure. Can the Brennans find sustainable solutions?
Programme Seven - NEW PARK HOTEL, ATHENRY, CO. GALWAY
John and Francis Brennan attempt to help Louise Feeney who is 32 and taking over from her mother to run her family's 11-bedroom hotel in Athenry. The hotel is badly in need of an update and Louise wants to put her own stamp on the business. This is her chance to get the hotel into shape for the future but Louise has an awful lot of work to do - from tackling her tired tearoom to revamping the bland bedrooms. But times are tough and Louise has to make every penny count, so she faces some hard choices.
Programme Eight - WEST COUNTY HOTEL, ENNIS, CO. CLARE

Top hoteliers John and Francis Brennan continue their mission to help independent hospitality businesses and tonight they're thinking big.
28-year-old Patrick Treacy comes from a family of hoteliers and he's just taken over his first hotel, which he's bought out of receivership. It's a major operation and although he has a healthy half million-euro budget to spend, there's an awful lot of work to be done. As well as redecorating over 150 bedrooms, Patrick also needs to revamp his huge function room, update his restaurant and renovate his bar. all whilst staying open and keeping his customers happy. It's a mammoth task - is Patrick up to the challenge?
Apply!
This is an exciting chance to transform your business!
We're currently researching a new series of
At Your Service, starring renowned hotel experts
John and Francis Brennan.
If you own or run a hotel, guesthouse, B&B, hostel, caravan park, campsite, self-catering cottages, etc. then this is your chance to get advice from the Brennans which could change your business forever. We're also looking for different projects for the show so if youre thinking of diversifying, e.g. opening a shop, tearoom or other start-up business, please get in touch if you think the Brennans could help.
We'd love to hear from you so, if youre interested in taking part
and want to be on TV, please contact:
Maggi Gibson, Executive Producer or Claire Small, Producer
Tel: 04890 427646 or 00 44 2890 427646
E-mail: maggi@waddellmedia.com
or clairesmall@waddellmedia.com