At Your Service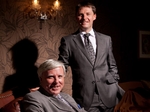 Francis and John Brennan are best known for their hotel expertise on
RTE'S At Your Service. But in recent years they have taken up a more personal challenge at Christmas when they have applied their troubleshooting skills to organisations helping others.
This year John and Francis have been challenged to help Penny Dinners,
a soup kitchen in Cork City. The charity is run by volunteers who provide 1800 meals a week for people who can't always afford a meal.
John and Francis Brennan need once again to tap into the generosity of the people of Ireland to give this wonderful charity a much needed makeover just in time for Christmas.

Episodes - Series 7
Programme 1 - BALLYHANNON HOUSE RIDING SCHOOL, QUIN, CO CLARE
Brand new series presented by hotel experts John and Francis Brennan who own and run the 5 star Park Hotel Kenmare. In tonight's programme the Brennans are in unfamiliar equine territory when they come to the help of Johnny Hassett who owns the Ballyhannon House Riding School in Quin, Co Clare. The Brennans want Johnny to diversify and make the most of his facilities, which include stables, a disused hayloft and an intriguing gazebo in the garden. Francis takes an adventurous horseback trek to the local pub, whilst John and Johnny sell a horse at the Goresbridge Sales in a bid to raise cash for much needed renovations.
Programme 2 - McGARRIGLE'S RESTAURANT, BUNDORAN, CO DONEGAL
In this week's programme John and Francis Brennan come to the help of a restaurant in Bundoran, Co Donegal. McGarrigle's Restaurant badly needs a facelift and a boost to its declining business. McGarrigle's is a family venture, run by the charismatic Sean McGarrigle, chef and owner, and his young daughter, Yvonne, who wants to drag her dad into the 21st century. But Sean is set in his ways and the Brennans and Yvonne have an uphill task persuading Sean to trust them about what's best for the business.
Programme 3 - MILLTOWN HOUSE, DINGLE, CO KERRY
This week the Brennans are challenged by an Irishman and an American who have gone into business together. Stephen McPhilemy is an Irish tour guide and co-owner Patrick Wade is a pharmaceuticals entrepreneur. They recently bought Milltown House in Dingle, Co Kerry. The 10-bedroom guesthouse has Hollywood connections as it was once rented by Robert Mitchum. Stephen and Patrick have ambitions to make this one of the finest guesthouses in Dingle. However, there's an awful lot of work to be done and they have no experience. Can the Brennans make this Irish-American dream come true?
Programme 4 - SHERKIN NORTH SHORE, SHERKIN ISLAND, CO CORK
Can the Brennan brothers help a new island business? Mike and Kathy O'Connor own a hostel on Sherkin Island that's been neglected for years and now needs a huge amount of work to be brought up to date. The Brennans have their work cut out - an island location is challenging and retired vet Mike and art teacher Kathy are venturing into brand new business territory.
Programme 5 - ANNESBROOK Duleek, Co. Meath

This week John and Francis Brennan are challenged to restore the fortunes of Annesbrook, an historic house that needs to finds new ways to pay its way. Owner Kate Sweetman, her daughter Sadhbh and her niece Caroline, plan to work together to develop Annesbrook as a wedding venue. They want the house to bring in revenue and become sustainable for future generations of the family. However, they have no background in the bridal business, they have a very limited budget and no profile in the highly competitive wedding market. Can the Brennan brothers help them succeed?
Programme 6 - THE BEACH HOTEL, MULLAGHMORE
Co Sligo
Francis and John Brennan come to the help of Patrick Markey & Louise Mc Ardle who have just bought a 28-bedroom seaside hotel. Patrick and Louise dream of making the hotel a success. But despite a great location the hotel bedrooms need an awful lot of work and Patrick and Louise have a very limited budget. The Brennan's know it's vital to attract new and returning business to fund their renovations and they bring a range of suggestions for creating packages with local businesses, including fishing and stand up paddle boarding.
Programme 7 - Ballinamore, Co Leitrim
It's a first for the Brennans as they're asked to help a barge holiday business.
Graham and Patricia Thomas are the owners of a 9-bedroom guesthouse that's used for B&B, 3 separate self-catering family units and 7 barges which are used for holiday rentals. It's a big business and it's badly in need of modernisation but Graham and Patricia don't know what they should be concentrating on. Can the Brennan brothers help them focus and steer this diverse business into the 21st century?
Programme 8 - Termonfeckin, Co Louth
This week Francis and John Brennan come to the help of a national institution.
Liz Wall, President of the ICA (Irish Countrywomen's Association), has asked the Brennan brothers to help invigorate business at An Grianán, the ICA college.
An Grianán is comprised of a 17th century house and grounds with 53 bedrooms, a 120 seat dining room, function room, bar, 6 self catering cottages and a small shop. To keep An Grianán alive they need to attract new members, update their facilities and attract people to their courses to support their ambitions. It's a huge place and a huge task - can the Brennans make a difference?

Apply!
This is an exciting chance to transform your business!
We're currently researching a new series of
At Your Service, starring renowned hotel experts
John and Francis Brennan.
If you own or run a hotel, guesthouse, B&B, hostel, caravan park, campsite, self-catering cottages, etc. then this is your chance to get advice from the Brennans which could change your business forever. We're also looking for different projects for the show so if youre thinking of diversifying, e.g. opening a shop, tearoom or other start-up business, please get in touch if you think the Brennans could help.
We'd love to hear from you so, if youre interested in taking part
and want to be on TV, please contact:
Maggi Gibson, Executive Producer
Tel: 04890 427646 or 00 44 2890 427646
E-mail: maggi@waddellmedia.com
or clairesmall@waddellmedia.com