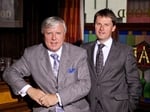 Top hoteliers John and Francis Brennan continue their mission to help independent hospitality businesses and tonight they're thinking big.

Episodes
Programme 1: Coolanowle Country House and Organic Farm

Top hoteliers John and Francis Brennan continue their mission to help independent hospitality businesses and tonight they're thinking big.
Bernadine and Jimmy Mulhall run a country house B&B and organic farm in Ballickmoyler in County Carlow. The B&B is in immaculate condition but room sales are pitiful - the location is remote and there's no reason for people to visit. The Brennan brothers are called in and come up with an ambitious plan to convert a barn into a function venue. But it's a major construction job - can Bernadine and Jimmy see the project through?
Programme 2: Hayden's Hotel, Ballinasloe, Co. Galway

The three Creaven brothers took over Hayden's in Ballinasloe in 2008 despite having no previous experience in the hotel industry. But the continuing recession thwarted their plans for developing the hotel into apartments and they've found themselves with a 47-room hotel to run.
Hayden's was once famous throughout Ireland as a wedding venue and the brothers aspire to restore the hotel's reputation for weddings. But with their lack of experience it's going to be an uphill task - can the Brennans help them knock the hotel into shape and bring the wedding business back?
Programme 3: St Helen's Bay Golf Club

It's a first for hotel experts John and Francis Brennan. They've been called in by St Helen's Bay Golf Club near Rosslare Harbour in County Wexford to help them makeover their golfing business. Owner Larry Byrne is first and foremost a golfer but the Brennans want him to realise the potential of the site to attract more than just golfers. The Brennans come up with a plan to attract families and non-members and to revamp the neglected holiday cottages. But wild weather proves challenging as the Irish summer fails to materialise.
Programme 4: Riverrun Cottages/Paddy's Bar

Mairead and Brendan Tierney are by trade a banker and a farmer. Despite their lack of hospitality experience, six years ago they decided to buy a pub. Recently they've expanded the business into self-catering cottages and a tearoom and gift shop. They need the Brennan's advice about the best way to run the new businesses - but Francis and John have a shocking analysis of what really needs to be done.
Programme 5 - The United Arts Club, Dublin

It's a triple first for the Brennan brothers as the hotel experts from Kenmare are called in to revive the fortunes of the United Arts Club in Dublin. This is the first time they've tackled a private members club, the first time they've had to work with a committee and the first time they've decided not to stay overnight, after Francis finds his bed is already occupied!
The Arts Club was founded over 100 years ago but now is badly in need of a revamp, as it's suffering from outdated facilities and falling membership. Can the Brennans breathe new blood into the place and help the club survive another 100 years?
Programme 6 - The Old Imperial, Youghal, Co Cork

Tonight, top hoteliers John and Francis Brennan are in the historic seaside town of Youghal, Co Cork to help first-time hoteliers Mark Golden and Mark Johnston get their 17 room hotel up and running. They took over the lease in January 2012 but they come from a catering background and have never run a hotel before. To have their own successful business has always been their dream - can the Brennans make this dream become reality?
Episode 7 - Rossnaree House, Slane, Co Meath
In tonight's show Francis and John Brennan are called in to help restore the fortunes of a historic country house. Rossnaree House has a unique location overlooking Newgrange but despite its proximity to one of the country's most visited tourist attractions it is failing to fill its 4 rooms. Owner and artist Aisling Law wants to find a way to make her historic house pay but she has no background in business. However, she's not convinced by the Brennan's advice.
Programme 8 - Kerry Coast INN, Cahersiveen, Co Kerry

Last in series. In tonight's programme top hoteliers Francis and John Brennan come to the aid of the Kerry Coast Inn on the Ring of Kerry. Abina Quirke has run the hotel for years and she's now looking to hand over the reins to her 25-year-old son Jeff. But the business isn't in great shape - the rooms are tired and domestic looking and as young people emigrate from the town there's no business for their nightclub. Can the Brennans make the Inn fit for a new era?