A Story with Me in It: Series 1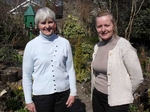 A Story with Me in it is a new documentary series which teams up well known Irish Writers Dermot Bolger, Sheila O' Flanagan, Alice Taylor, Peter Sheridan, Louis De Paor and Marita Conlon McKenna, with six adults who have struggled with literacy throughout their lives.
Each programme will focus on one person's story, and the challenges they face to write that story down. With the help of a writer, they will have to look back over their lives and re-examine the past. They will visit places that evoke strong memories, and learn how to turn thoughts and emotions into words on a page.
With the stories complete, the learners must present them to the writer, and then to a tougher audience - their own families and friends.
Episodes
Programme 1
Alice Taylor works with Eileen Sheehan from Moyross, who writes about leaving school at 12, and the adventures that followed.
Programme 2
Best-selling children's author Marita Conlon-McKenna teams up with Susan Coyle from Rathmines. Susan is dyslexic, and has struggled with literacy her whole life. With Marita's help, she wants to write a children's story for her daughter Nicole. Nicole is always asking for bedtime stories, but in the past Susan hasn't had the confidence to read to her daughter. Can she write and read her own story for Nicole?
Programme 3
Award winning poet Louis de Paor teams up with Eoin O Tuaraic from Connemara. Eoin, a native Irish speaker, has always struggled with literacy in his first language. He returned to education so he could write down his father's stories. Now Eoin wants to try to write a poem that will honour his father's memory, and perform it for his family.
Programme 4
Peter Sheridan helps Paul Hughes from Blanchardstown whose vivid memory of killing a goose for Christmas shocks his grandson.
Programme 5
Sheila O' Flanagan works with Catherine Delaney from Portlaoise on a story about how running away at 15 lead to her proudest moment, the birth of her grandson, almost 25 years later.
Programme 6
Dermot Bolger helps Joe Begley remember the Dublin of their youth.

Do you have a story to tell?
Why not share it on www.astorywithmeinit.ie - a new website to accompany the TV programme where people can contribute, showcase and read each other's stories. The new website features all the stories from the TV series and contains lots of handy tips if you need help writing a story. Stories and poems can be entered under a number of categories, including achievement, family, friends, humour, kindness, love and relationships, and poetry.
If you need help reading, writing or working with numbers call NALA on 1800 20 20 65