A Story With Me In It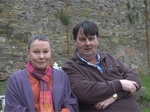 There's more to writing than spellings and grammar.
A Story with Me in It is a documentary series which teams up well known Irish Writers Belinda McKeon, Dermot Healy, Kate Thompson, Sarah Webb, Colin Bateman and Kate Kerrigan, with six adults who have struggled with literacy throughout their lives.
Each programme will focus on one person's story and the challenges they face to write that story down. With the help of a writer, they will have to look back over their lives and re-examine the past. They will visit places that evoke strong memories and learn how to turn thoughts and emotions into words on a page.
Series 2
Episode 1 (Author Kate Thompson and Noel Phelan):
Writer Kate Thompson, once of Glenroe and Fair City, teams up with Noel Phelan from Kilkenny to write his story. Noel's health has affected his life dramatically. They take an emotional journey when Noel writes a powerful letter to his daughters who are away in New Zeland - something he has never done before.
Episode 2 (Kate Kerrigan and Paula Lynch Ahern)
Author Kate Kerrigan and Paula Lynch Ahern from Tallaght write about the most important people in Paula's life, her mother and her children, and how they inspire her. Paula and Kate bond as mothers who have faced crises in their lives and together they write about what it means to be a mother.
Episode 3 (Dermot Healy works with Paddy Joe Donellan)
One of Ireland's leading writers Dermot Healy works with Paddy Joe Donellan, an elderly farmer in East Galway.
Paddy tells the story of what it was like to grow up in rural Ireland on a farm in the 1950s. Dermot helps him to craft his story into a rich illustration of an Ireland that is almost forgotten.
Episode 4 (Colin Bateman and Larry Regan)

Colin Bateman and Larry Regan from Trim Co. Meath, team up to remember a teacher from whom Larry found the inspiration to become the man he is today.
Episode 5 ( Belinda McKeon and Kay Mooney)
Winner of the Bord Gáis Irish Book of the Year, Belinda McKeon, works with Kay Mooney to write a story about Kay's life growing up in inner city Dublin.
Episode 6 (Sarah Webb and Nicole O'Toole)
Young adult writer Sarah Webb and 18 year old Nicole O'Toole from Lucan together work on a letter to Nicole's unborn son. As a young mother coming to terms with this change in her life writing the letter becomes a way for her to come to terms with this change.

This series was produced with assistance from the Broadcasting Authority of Ireland's Sound and Vision Fund & in Partnership with the National Adult Literacy Agency
Details about supports services for those with learning difficulties are available on Aertel, page 706
Do you have a story to tell?
Why not share it on www.astorywithmeinit.ie - a new website to accompany the TV programme where people can contribute, showcase and read each other's stories. The new website features all the stories from the TV series and contains lots of handy tips if you need help writing a story. Stories and poems can be entered under a number of categories, including achievement, family, friends, humour, kindness, love and relationships, and poetry.
If you need help reading, writing or working with numbers call NALA on 1800 20 20 65