Apartment Kids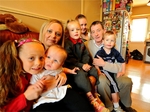 In Ireland, we're accustomed to seeing children playing in the concrete yards of inner city flats complexes. Now there's a new phenomenon: a new generation of children growing up in isolated, suburban apartments that were only ever intended to be starter homes.
During Ireland's boom, buying an apartment was the only option for many young couples. It was never meant to be long term. Now, trapped in negative equity, young families have little choice but to raise their children in small spaces, apartments built without children in mind.
Be they raised in Dublin's inner city social housing or private suburban complexes, Apartment Kids face distinct and shared challenges. The sociological fallout impacts the children, their parents and the community at large.
Nine-year-old Ashton Caffrey lives with his mother in a one-bedroom flat in the heart of Dublin's tourist area. Crampton Buildings in Temple Bar has been the family home for six generations. Now, 120-years-old, the complex is in serious need of repair.
Anna Boch, mother of toddlers Aoife and Lorcan Owens, bought her two-bedroom apartment by the M50 at the height of the boom. It was a temporary move to get on the property ladder. The plan was to build a family house near her husband Alun's home in Wicklow. Six years and two children later, the couple are in 75% negative equity, still living in their apartment.
10-year-old Kaylee Dunne lives in a two-bedroom flat in Dolphin House with her brother Claine and mother, Michelle. Dolphin House is Dublin's second largest social housing complex and is home to the most disadvantaged in Dublin's south inner city. Kaylee has health issues that make hygienic bathroom conditions imperative. But the flats in Dolphin House are beset by damp and sewage problems.
Ciarán Vidovszky is four. In 2004, his Mother, Fíona, bought a two-bedroom apartment in Clongriffin off plans. 15 kilometres north of Dublin's centre, Clongriffin was to be Ireland's largest, boom time residential development. It remains unfinished and with few facilities.
When eight-year-old Emma Dolan's parents, Noel and Deborah, moved into their two-bed Voluntary Housing flat in Dublin's East Wall, they only had one child. Eight years and five children later, the family is frustrated by waiting lists and a home that is more than a tight squeeze.
RTÉ One, Tuesday, 10.15pm