Anonymous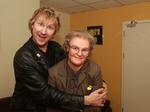 Armed with buckets of make up, a bunch of hidden cameras and a fresh batch of celebs willing to put themselves at the mercy of Jason Byrne, Anonymous is back with a fifth series, to get one over on various civilians, fans and familiar faces.
This year's line-up features Amanda Brunker, Grainne Seoige, Jedward, Rosanna Davison, Michelle Heaton and a season finale where Jason himself becomes a nun and hands his hosting duties over to Kathryn Thomas.
Episodes
Episode One: Amanda Brunker
Amanda turns into Nuala Ni Buachailli - a poet/activist from Galway with a drink problem. She launches a new range of breast milk-based ice cream called "Moody Cow", recruits for a flash-mob, recites her poem "Agus" to anyone who'll listen to it and sets up fellow chick-lit author Marissa Mackle, Sunday World co-worker Daragh Keaney and former minister Nora Owen on a fake radio show - The Kitchen Sink, where she reveal her new puppet-based show.
Episode Two: Grainne Seoige
Grainne Seoige becomes Gillian Cullen, a pyjama-wearing young one from the inner city. She launches her new range of outdoor PJs as part of her Planet Pyjama range and tries selling them out in Dalkey.
She sets up Dragons' Den star Bobby Kerr who thinks he's helping her raise money via a pyjamathon that will see her walk from Dublin to Liverpool in her PJs.
Then, for her biggie, she gets her very own sister, Sile, who thinks she's taking part in a pilot show called "Dustin's Bogger Boot Camp" that will see inner city kids move to the country.
Episode Three: Jedward
In a first for Anonymous we've two masked up guests this week! We've turned Jedward into Seanie and Edwina, an old and somewhat confused couple. We didn't let them see each other and then dropped them off in two different parts of a large shopping centre and had them try and find each other....
Later, they set up a bunch of their own fans who thought they were auditioning to be in one of Jedward's videos and they also set up a bunch of smaller kids in our first ever G Rated stunt.
Episode Four: Miss World Rosanna Davison
In this week's episode of Anonymous we changed former Miss World Rosanna Davison into shy science geek student Aideen Cowley from Tipperary.
Up in Dublin and studying in Trinity we had Aideen try to collect DNA samples from passers by, get a guy to hold her balloons whilst she ran to the loo and to then try and get some guys to go on a date with her. But, best of all, we got her Dad, Chris de Burgh....
Programme Five: Michelle Heaton
This week on Anonymous we turn pop and telly starlet Michelle Heaton into a bloke with a camera as she becomes a paparazzo photographer for the day. We set her loose in Drogheda where she paps the unsuspecting locals, tries to flog a range of Michelle Heaton perfume and gets chucked out of a bed shop...
Later, model Georgia Salpa comes along and helps us set up a pair of former Big Brother housemates and Ireland's own king of reality, Breffny Morgan. And finally, we end with a stunt that sees Jason pretending to be Mary Byrne under a blanket whilst we set up one of Dublin's paparazzi...
Programme Six:
For the final episode of this season's Anonymous we've once again decided to invert proceedings and mask up our very own Jason Byrne by turning him into aged hard-of-hearing nun, Sister Sinead Murphy.
Complete with habit and Kathryn Thomas in his ear Jason goes on a mission to spread chaos on the streets as he has the good sister collect money for "iPods For Africa", drive a car on Grafton St, smoke in a shop, do a spot of shop lifting and best of all creates a brand new hidden camera show called "The Not Very Well Hidden Camera Hidden Camera Show" where we let people know in advance that we're about to do a gag on them.
Will they take part? Will we still manage to get one over them? Tune in and see a moment of telly that proves you might actually be able to fool all of the people all of the time...