Animal Clinic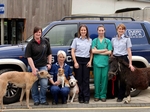 Over the past year, we followed the extraordinary work at Ireland's largest animal charity, the Dublin SPCA. In this new series, the challenging work continues for the staff at the clinic, as they care for all creatures, great and small. Out on the road, the team of rescue workers go to the aid of animals in distress.
Being the biggest animal charity in the country brings with it a heavy work load. There's a constant stream of cases at the Rathfarnham based shelter. They deal with every kind of animal, not just cats and dogs, and there's a huge variety of creatures needing attention. As the charity continuously grows, so does the number of patients they treat and they take care of thousands of animals every year.
Series 3: Episodes
Episode 1
On this first episode of the series, Inspector Tony McGovern calls for help from a drain company with special cameras, when a cat disappears into a small gap between two houses. Spanish Vet Natalia takes on the task of feeding two baby seagulls until they're ready to fly. But it proves to be quite an undertaking. And, a cat is stuck up a tree for a week so Lisa calls in the help of the Fire Brigade.