An Cór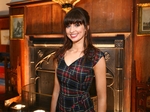 Presented by Aoibhinn Ni Shuilleabhain AN CÓR, a four part series, features the experiences of six choirs as they immerse themselves in the culture, language and history of traditional Irish songs such as "Oró mo bhaidín", "Fill a rún o" and "Príosún Chluain Meala".
In each of the first three shows, two choirs compete against each other. Each choir must rehearse the song, learn and understand the words and get the pronunciation right before the judges select one to go forward to the final. The judges are John Fitzpatrick, Bláthnaid Ní Dhonnchadha and Rónán Ó Snodaigh.
While they're rehearsing, Aoibhinn travels the country to learn the back story of the songs themselves and mentors the choirs as they attempt to impress the judging panel with their final polished version. The three successful choirs from the heats will get to compete in the grand final at The Helix Theatre.
Episodes
Programme One: Monday March 7th 8:30pm - Cór Mhaigh Eo and A Glór
Aoibhinn travels nationwide to explore the history of the 'Fill a rún ó', which is a song from Donegal and 'Mo Sheamaisín', which originates in Cork. She also meets both choirs Cór Mhaigh Eo from Castlebar and Dublin based Gospel Choir A Glór to see how they are getting on with their challenge. The choirs go head to head to sing in front of our panel of judges Rónán Ó Snodaigh, Bláthnaid Ní Dhonnchadha and John Fitzpatrick at the historic venue of Tullynally Castle in Co. Westmeath. The winner goes through to the grand final live at The Helix.
The Choirs
Cór Mhaigh Eo are based in Castlebar and have a membership drawn from across County Mayo. This mixed voice choir has a wide repertoire and an impressive track record in choral competition having won at Cork National Open Competition in 2009. For An Cór 2011 their director, Brian Lennon, will be creating his own arrangement of a piece for the very first time. The traditional song which Cór Mhaigh Eo will perform has a particularly intriguing history and a complex emotional message which will challenge even this very accomplished musical group.
A Glór is a female gospel group based in Dublin. This is an international sisterhood with members from France, USA, Germany, Poland, Ireland, Finland and Sweden. This choir sings inspirational music and places great value on the bonds of friendship formed through singing together. For many of the choir members taking part in An Cór will be their first time engaging with the Irish language. A Glór's Musical Director, New York native Jennifer Grundulis, is hoping that being a Speech Therapist will help her to get to grips with the Gaeilge!

Programme Two: Friday March 11th at 7:30pm - Garda Ladies Choir and The Africa-Irish Gospel Choir
Aoibhinn travels around the country to learn about the history of the songs featured in tonight's programme. During a boat trip in Fermanagh, she finds out a little more about 'Buachaill ón Éirne' and speaks to someone with some very personal memories of the song 'Maidrín Rua'. She'll also be popping into Garda Headquarters to see how the Garda Ladies Choir are getting to grips with their new tune and finding out if Irish traditional music is too much for the Africa-Irish Gospel choir!
The choirs go head to head to sing in front of our panel of judges Rónán Ó Snodaigh, Bláthnaid Ní Dhonnchadha and John Fitzpatrick at the historic venue of Tullynally Castle in Co. Westmeath.
The Choirs
The Garda Ladies Choir, formed in 1986, brings together female members of the Garda Síochána as well as family members and friends of the force. The ladies sing in hospitals, schools and at charity events. An Cór will be there first ever foray into competitive singing. Musical director, Rodney Baldwin, relished the opportunity for the Garda Ladies to take this new challenge, confident of their passion and ability and just hoping that their nerves didn't get the better of them on the day.
The African-Irish Gospel Choir come together each week from all over Cork to practice in their city-centre base. The choir is made up of members from Jamaica, Nigeria, The Republic of Congo, England and Ireland and are regularly sought to sing at weddings, christenings and other events around Cork. Although they choir are used to singing in French, Swahili and Congolese, how will they deal with Irish? Their musical director, King David is confident this band of international singers can perform to the highest level and add another language to the group's repertoire.
Programme Three: Monday March 14 at 7.30pm - UCD Choral Scholars and the Cork-based Pfizerpfonics
This week Aoibhinn travels around the country to learn about the history of the songs featured in tonight's programme, ''S í Do Mhaimeo í' and 'Cill Chais'. She'll also be meeting up with the choirs, the students of the UCD Choral Scholars and the members of the Cork-based Pfizerpfonics.
The Choirs
UCD Choral Scholars are a group of high achievers in many ways. All members are UCD students who have gone through an audition process to join the choir. The choir has performed on television and radio, at charity events and college functions. Desmond Earley has been Artistic Director with the scholars since their foundation in 1998 and has guided them in their role as cultural ambassadors for their university. This is a highly competitive group determined to win An Cór 2011 for UCD!
Pfizerpfonics is a choir whose members are employees, friends and family of those who work in the Pfizer plants in Cork. The choir has nearly 50 members and come together each week in Douglas, Co. Cork to rehearse and bring a real level of professionalism to their wide range of songs. The choir travels widely together, not only by bus but also by motorbike, as Pfizerpfonics have their own motorcycle club! Not many members of the choir speak Irish, so we'll have to see their leader, Ber Ryan keeps the group in check and ensures standards remain high!

Judges
John Fitzpatrick
John has been involved in the Cork Choral Festival for nearly 35 years and Festival Director for the last 15 years. An Arts and Music Graduate of U.C.C., John has broad ranging experience as a choral conductor, judge and lecturer. He is also noted for his commitment to community choirs and is considered Ireland's most experienced adjudicator at international level. In 2008, John was named Cork Person of the Year as a result of his work with the Cork Choral Festival.
Bláthnaid Ní Dhonnchadha
Bláthnaid began her TV career as a fashion reporter on TG4's 'Síle' show, presented two series of the very popular show 'Paisean Faisean' and has recently been involved in the station's newest fashion offering 'Stíl na Realt'. Born in Clare and living in Galway, Bláthnaid was a presenter of RTÉ One's 2009 traditional music series 'The Reel Deal'.
Rónán Ó Snodaigh
Dublin-born Rónán is a prolific musician, writer and performer in both Irish and English. He has traveled throughout the world performing with many musicians including Zakir Hussein, Lisa Gerrard plus bands Dead Can Dance and of course, the legendary Kíla.