American Dream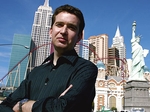 Mark Little travels through the Sunbelt states - along America's New Frontier - to see if the trauma of the Bush years and the threat of recession has killed that dream, or whether it is about to be reborn.
To understand America, says Mark Little, you need to understand the contradictions that lie at the very heart of the world's last superpower. Most Americans, says Little, from President to pauper, are keenly tuned into the tensions that exist between a collective love of ritual and the wilder call of the frontier. Most Americans, says Mark, have the pioneer spirit in their very DNA, a spirit that is today at odds with a growing national obsession with the boundaries of home. As the new America seeks to protect the very idea of itself, will the American dream ultimately suffocate and die?
Americans have always mythologized the pioneer, says Mark, as long as the pioneer ultimately submits to the broader consensus, creating new communities out of the disorder of dispersal, creating new Americas at the outposts of its own civilisation. In American Dream: Dead or Alive Mark Little looks at the continuing dispersal and expansion of the United States into its own interior, charting how the American pioneer spirit is alive and well in the 21st century. Visiting Phoenix, America's fastest growing city, Mark unveils a city still in the grasp of the American dream.
If the American dream is still alive, says Mark, then it's in these sun-belt states. In an arc running through Arizona, New Mexico and Texas, the new political and social epicentre of an evolving empire is emerging. Reagan was the first sun-belt state president, espousing the values of the frontier in a cosier framework of home and religion, picket fences and Stetsons. Reagan articulated, says Little, an old belief system, re-invigorating an aggressive foreign policy that reached its popular consensus in George W Bush.
But where has Bush taken the American dream? The answer lies somewhere in Bush's promise of compassionate conservatism. But while perfectly suited to a presidency in the media age, were the irreconcilable contradictions of the Bush brand ultimately undone in the wake of 9/11? In short, did Bush's brand of American dream simply crack and fold in the fall-out of his search for freedom, a definition of freedom that many, both at home and abroad, were to come to reject?